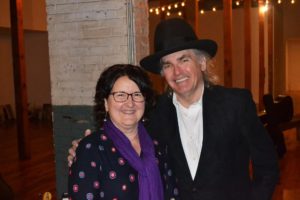 Ever hear a musician for the first time and say, "Wow, I could listen to this music all day!"? For me, it's a rarity. I consider myself a music snob…I know what I like, and that's that. (I'm also a comedy snob, but that's another story.) Back in October, Bill and I were headed to a Halloween festival. We had read about the performer, Eric Sommer, whose music was billed as folk/blues/Americana/rock influenced by the likes of Townes Van Zandt, Steve Earle, Steve Howe, Randy Travis, and Elvis Costello. Wait a minute…really? A favorite guitarist in our household is Steve Howe. We were intrigued, yet skeptical that perhaps there was some hyperbole in this write-up.
Indeed, we were blown away on that Halloween evening, listening to Sommer's music and banter with the crowd. There was no exaggeration in that initial write-up. Bill and I knew right away this was a musician who belongs on WildesArt and whose music deserves to be heard by the masses.
Fast forward two months, and I find myself reflecting on a day spent video-recording the awe-inspiring singer/songwriter and guitar master, Eric Sommer. Setting up in the old Chatham Mills building in downtown Pittsboro, North Carolina, Sommer strolled through the door, a black Vivian Westwood fedora atop his head, carrying guitar upon guitar: a Jay Tercer parlor guitar; twin black and white checked Trinity River guitars; a Taylor acoustic embellished with mother-of-pearl inlay; a 1951 Sears Silverstone that looked as though it was once strummed in the doorway of an Airstream trailer on a lazy summer afternoon; and the Holy Grail of guitars: an ageless Fender Telecaster, worn from years of use, its fret-board patina announcing a history of glory days.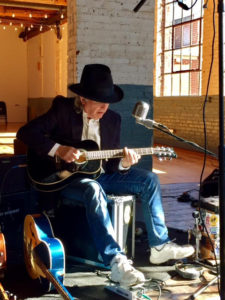 With steel finger picks on each finger of Sommer's "strumming" hand (I use that term lightly, as his playing is better described in terms of slaps, slides, and stabs), one foot on a volume pedal and the other foot tapping out the beat on a kick box, Sommer drove us through a catalog of songs. These are tunes that tell a story…some are epic poetry laced with a guitar riffs and chorus. Others are fusion instrumentals or inspired by old-time Americana and bluegrass tunes. These songs will never fit into a one-hit-wonder mold. For instance, the song, Do Re Mi, played on the Jay Tercer, is not your kid's note-scale music lesson. This song touches upon the psychedelic, using frequency waves a la Jimmy Page, and glides to superior riffs reminiscent of Steve Howe. Then, turning his instrument face-up flat, Sommer punctuates with a jolt of guitar bongos.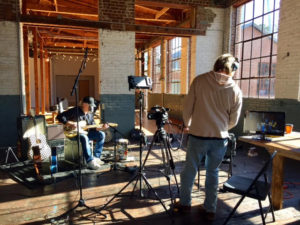 After eight hours of filling the old brick and wood warehouse with instruments and video equipment, the air still vibrating with music, it was a wrap. Eric will soon be setting off on national and European tours, and Bill will be working his wizardry on editing and packaging this collection of music videos. And I will be anxiously awaiting the release of each of these creations. Stay tuned…you won't be disappointed.
Visit Eric Sommer's website: www.EricSommer.com
Follow Eric on Facebook: @ericsommermusic
Subscribe to WildesArt and to our WildesArt YouTube channel to stay up-to-date on new releases.
Special thanks to Chatham Mills.