A Gathering Place…..
Welcome to the Visiting Artists section of WildesArt. This is a gathering place of artists, songwriters, musicians, prose writers, and poets, who are creating for the love of creating and touching lives. I am a curious sort of person, so I always wonder what makes such talented folks who they are. What experiences and beliefs have led them to what they are doing at this point in time?
---
Visiting Artists – Valerie and David Lee Mayfield: The Bluegrass Sweethearts
by Barbara Hengstenberg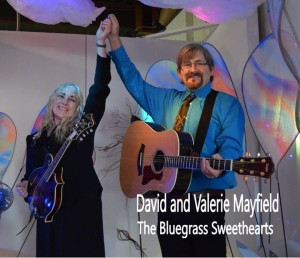 I've been following Valerie and David Lee Mayfield as they tour from town to town throughout the eastern United States. Their music is true to their roots and real…just as they are themselves. Both work tirelessly in an effort to get their music heard. It seems that this is what they were meant to do, ever since they first met up as teenagers.
While their own music speaks for itself, they are most proud of the work of their children, Jessica Lea Mayfield and David Ray Mayfield. The elder Mayfields are obvious influences on their musician children, both in work ethic and in sound. This is a family that has grown up around and through the music scene of the south.
When asked to reflect on the Mayfields, friend and fellow musician Jim Avett stated, "The Mayfield and Avett families grew up in different locations but were influenced by much the same wide variety of music and times. As the children progressed and honed their skills, the parents willingly were caught up in the process as both families became better in the world of music." Jim stated further, "I have performed with David and Val Mayfield, and it's always a pleasure and honor to share the stage with them. A very talented couple."
As you read the story of the Mayfields, you will be reading about tried and true Americana musicians…a culmination of the many bluegrass/Americana/folk musicians who came before them.
❤️Barbara
---
WildesArt: Tell us about your early days as a musician.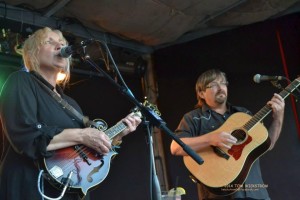 David Mayfield: I started out playing bluegrass at age 18 with a banjo player named Jim Metz. We played a lot of covers – Seldom Scene, Osborne Brothers… We also knew Jerry Douglas and would play shows with his dad's band. Following Jerry's career, I came in contact with Boone Creek and the more modern music of the New Grass Revival. In my early 20s, I founded the band, The Bottom Line, a more progressive bluegrass band. Later, I performed with Footsteps of Tradition, where I had to get schooled in the old Stanley Brothers and Flatt and Scruggs music.
In the late 1980s, Valerie and I started the country band, One Way Rider, playing country nightclubs, and covering a lot of Ricky Skaggs, Patty Loveless, Keith Whitley, and Marty Stuart songs. When the kids [Jessica Lea Mayfield and David Ray Mayfield] joined us, we went back to bluegrass and, together, played a lot of festivals.
We then bought the Bluegrass Breakdown Bus (formerly owned by Bill Monroe, the father of bluegrass music) and hit the road. We ended up living in Nashville for about four years, and the kids moved on and got major record deals. At that time, Valerie and I were working regular jobs and playing only about four or five shows a year. We began playing full-time as The Bluegrass Sweethearts duo about two years ago.
WA: Who inspired you as a teenager?
DM: As a teenager, I was inspired by Flatt and Scruggs, and any bluegrass music I could find. My grandparents and uncles played music for square dances in West Virginia every weekend, and I would join them on whatever instrument was available. On guitar, Tony Rice was my greatest influence.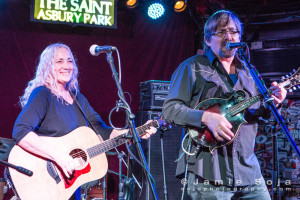 Valerie Mayfield: As a teenager, I was inspired by many artists…mostly bluegrass: Don Reno and Red Smiley, Flatt and Scruggs, Carter Stanley. However, my favorite music as a young girl was Fats Domino. I was also inspired by my father's albums, as well as the music of Johnny Horton and Jimmy Driftwood. I grew up playing music in my family's bluegrass band, and played bass. .My father (Victor Sergeant), mother (Goldie Lea Church), and brother (Larry Sergeant) were great inspirations to me. My mother was just a great encouragement to me. I was never a mainstream-music kid. I was the kid who listened to the B side of the record. The song that wasn't the hit was the song I loved. When I met David Lee, I was introduced to a whole new side of bluegrass that I had never heard…Ricky Skaggs, Tony Rice, Seldom Scene, Doyle Lawson, Sam Bush, Emmy Lou Harris, Allison Krause.
WA: Who currently inspires you?
DM: My favorite current performers are Darrel Scott, Mountain Heart, and the Old Kentucky Colonels.
VM: My kids are my greatest inspiration. And my husband – when I met him I was just wowed over how he was the greatest guitar picker and singer I had ever heard, and still is. I was inspired by him when I met him, to buy a mandolin and become good enough that he would want to play music on stage with me. I was a fan of his group, The Bottom Line. When I met David Lee, he created a spark that I could never put out!
WA: If you weren't performing and creating music, what would you be doing?
DM: I would probably be a band tour manager. I've enjoyed the opportunity to manage the tours of David Mayfield Parade and Jessica Lea Mayfield when they've needed me. I'm also a pretty good guitar tech.
VM: I hate to think of a time when I can't create or make music. I suppose I'd like to learn to paint, finish the books I've been writing for years, teach. I love to keep busy.
WA: What types of jobs have you had in the past?
DM: I have worked as a CNC machinist for over 40 years, while playing music. I'd work the night shift in return for getting time off to travel to festivals and perform with my family.
VM: My list of jobs is long! I've worked as a youngster at an egg kenneling factory…and now I don't eat eggs. I've mixed mortar, built manholes, laid brick, and worked at the Dairy Queen. I've been a library assistant, worked in a newspaper office, a steel mill (which was like working in the pits of Hell), a plastics factory, K-Mart, a hospital, and went to Kent State University while I was raising two small children at home. Later, I became a realtor…just as the market crashed.
WA: What do you like to do in your spare time, if you have any!?
DM: While I like to travel and stay busy, if we have time off, I enjoy looking for bookings and listening to music.
VM: I enjoy gardening, cleaning, sewing. I love to crochet, cook and, of course, playing music. I recently just started trying my hand at making jewelry.
WA: What brings you the most joy?
DM: Being able to travel and perform music with Valerie.
VM: What brings me the most joy would really be that my children and my husband are all well and happy. Also, that my husband and I get to travel together, and the fact that we've made it through hard times and good times. Entertaining folks brings great joy. What a wonderful way to make a living!
WA: Where do you see yourselves in 10 years?
DM: I hope to be performing…mostly festivals and theaters on the bluegrass circuit.
VM: I hope to continue perform on the road with my husband. Another dream of mine is to have our own building where we can put our old bus, The Bluegrass Breakdown, on display. The bus once belonged to Bill Monroe, Lonzo and Oscar, Kitty Wells, and Ferlin Huskey. It would be great to have a large pole-barn-type building for the bus and a stage for The Bluegrass Sweethearts and other performers…a small coffee shop, local arts and crafts, and bluegrass history on display.
WA: What is the philosophy that guides you through life?
DM: I always say, don't take yourself too seriously…and always watch your back!
VM: I practice this every minute that I can. We call it "the secret"…to be happy and positive all the time, and grateful and thankful. To always be kind and never say anything negative about anyone. To work hard and pursue our passion. To be loving and understanding. To never give up our goals.
WA: Your entire family is very talented musically.
DM: The kids were both home-schooled and are very intelligent. They are excellent songwriters and have paid their dues playing in our family band.
VM: Our children have worked extremely hard all their lives. Our oldest daughter, Amanda Lynn, played banjo with us for a few years. She is married and has one child, our only grandchild, Larry Cline. David Ray started performing with us when he was 12, and Jessica Lea at the age of 8. We sold everything we owned while living in Ohio, bought the old bus, and moved to Nashville, where the whole family performed three shows a day, seven days a week, for four years.. It was tough. Sometimes the music world can be a cruel business, but our love for performing and entertaining has always seemed to take center stage!
Visit Valerie's guest blog post HERE.
Contact the Mayfields…..