A Gathering Place…..
Welcome to the Visiting Artists section of WildesArt. This is a gathering place of artists, songwriters, musicians, prose writers, and poets, who are creating for the love of creating and touching lives. I am a curious sort of person, so I always wonder what makes such talented folks who they are. What experiences and beliefs have led them to what they are doing at this point in time?
---
Visiting Artists: Rivers
by Barbara Hengstenberg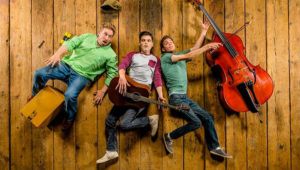 The band, Rivers, checks off all the boxes for joining our WildesArt community. They are young entrepreneurs who believe so much in their work that they are now devoting full-time to it. Their music is amazing and incredibly unique, and they are creating in order to reach out to others. According to Matt Sinkovitz, persussionist, "It's amazing to share what you've created with people and get such a positive response. It makes you feel like you are doing something right."
I was first introduced to the Rivers sound by pure happenstance. Stopping off in Carlisle, Pennsylvania, on our journey from North Carolina to Connecticut last fall, Bill and I found ourselves in need of food and drink. (If you've never been to Carlisle, I highly recommend this eclectic small town.) We stopped in at Andalusia Tapas Bar, and decided to sit in the back, where a band was setting up for the night. We figured it might be nice to have some background music with our meal after our long drive.
I have to say, it is rare that I come upon a band I've never heard, that takes my full attention from my food and drink, especially a totally acoustic band. Arriving early, we were privy to watching the band set up, with Joe Schaefer on upright bass, Matt Sinkovitz on percussion, and Vincent Yarnell on guitar and banjo.
They had us at the first song.
I would call their sound a sort of "indie fusion Americana." Rivers will tell you they blend folk rock, pop, funk, blues, chamber pop, Americana, roots rock, and alternative, but don't box them in. Yarnell's vocals are reminiscent of John Mayer, with more of an Americana/rueful slant. And the beat was amazing. At one point, I turned to Bill and said, "Where is all that percussion coming from?" I quickly realized Sinkovitz was keeping the beat on a Cajon Box Drum and beating a small tambourine with his foot, all the while Schaefer was funking up the sound with his energized upright bass.
All I can say, is you've got to listen to this band. You'll soon realize that what makes them special comes from their eclectic influences: rap, hip-hop, classical composers, folk, and rock…etc…etc. I suppose you can say this about most bands, but these guys truly put their influences to use.
I encourage you to read about the lives and music of this trio, and listen to their music. Their EP, High & Dry is a recent release, and is available below. Keep an eye and ear open…this band is here to stay!
❤️Barbara
---
WildesArt: What adventures in your life have led you to where you are and who you are, artistically?
Matthew: The first thing that comes to my mind is being around really big thinkers. It has taught me to look at this "business" creatively and how to get things done on a budget. Definitely my time in the corporate world. It's given me the business mindset and the ability to treat my music like a business to be able to do it full-time. I think I am most creative in the business.
Vince: Just moving around a lot and experiencing different places. Being around different people. Life in general is inspiring. I think I am exactly who I am supposed to be.
Joe: My life experiences and finding success through adversity.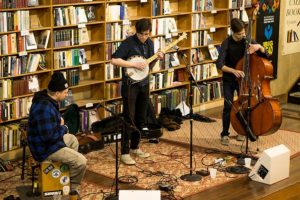 WA: Who inspired you when you were growing up? And who inspires you now?
Matthew: One of my biggest sources of inspiration were hip-hop artists. I think I was really attracted to the culture. It inspired my whole demeanor. It inspired my music "flavor" and my style. I'm really inspired by the "Rags to Riches" story by a lot of these guys. "I'm not a businessman, I'm a business, man." -Jay-Z
Currently, the great leaders and thinkers of our time inspire me. And even historical figures like Abraham Lincoln. Imagine the shift that all of these influential leaders have created. I'm still really inspired by hip-hop moguls like Jay-Z, Russell Simmons, and Lil-Wayne.
Vince: Everyone in my family has inspired me in different ways…everybody who's being true to themselves and not sacrificing their happiness for anything. And my mom.
Joe: Alexander Scriabin and F.M. Alexander inspire me now. There is dedication and then there is passion. These guys had it.
WA: If you weren't creating/performing music, what would you be doing?
Matthew: I would be coaching artists and building support. Focusing on artist development.
Vince: Nothing. I'd be dead. There's only one thing I want to do and I'm doing it. There is no Plan B.
Joe: If I wasn't creating or performing music I would be teaching the Alexander Technique. (WA Note: The Alexander Technique is a method of learning how to move through life mindfully, ridding oneself of harmful bodily tension by using efficient habits of movement. Joe is currently an Alexander Technique teacher.)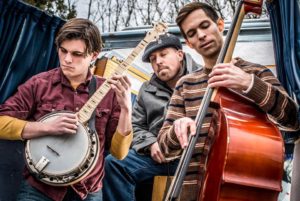 WA: I understand you've all quit your day jobs. What has that been like?
Matthew: In the past I've worked in the real-estate and hotel industries. It's been like jumping off the cliff and learning that you can fly.
Vince: Very rewarding in a spiritual way. It's been great. It's beautiful being able to do what you love to do. You have to give up some material things and give up certain things when you're starting out, but it's totally worth it. In the past, I've had my fair share of lots of different jobs: warehouse work, cooking…every job that's not for me.
Joe: I have been a chef at the Carlisle Country Club, worked in assisted-living at the Bridges of Bent Creek and as a security officer at the Baltimore Museum of Art, in addition to being a house musician for local playhouses and theatres. Yes, as if it was a New Year's Resolution that we all parted ways with our jobs as of 1/1/2015. It has been amazing. You never really know how much the humdrum of a daily job can grind away at your very soul until you do something like this. There is joy in life and that is because we play music together.
WA: What else do you like to do to when you have "spare" time?
Matthew: Growing and staying healthy in all aspects of life.
Vince: I like to read, draw, and even in my spare time my favorite thing to do is to play music. I even go hiking, I like nature a lot.
Joe: Practicing and teaching the Alexander Technique, swimming and running, outdoorsy stuff, reading.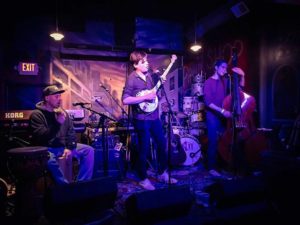 WA: Whose musical and artistic styles do you enjoy and respect?
Matthew: Kendrick Lamar, because I feel like he is the "best" lyrically. He's a master wordsmith. He's adopted a charge to convey a powerful message. He takes the fact that he has so many ears listening very seriously. Tyler the Creator because he's really good at creating his own vibe/image. He's really good at just being Tyler the Creator. He's created a huge independent following. Earl Sweatshirt because he's a genius wordsmith, as well.
Vince: I've always been a huge fan of James Taylor. Lately, I'm really drawn to Andrew Bird. The way he makes music really inspires me.
Joe. Musically, I enjoy and respect the classical styles of Samuel Barber and Steve Reich. This is because these men push the limits of their genre by still by still being aware of what the limits of convention are. Basically, they go outside the box and still make it sound good. Most of the time when this is done the opposite occurs. This is the reason that I like the following more modern examples of Blink 182, Red Hot Chili Peppers and System of a Down, as well. With all of these groups you walk away and are left with a melody or something of them musically. A lot of new bands it's like, "Oh, that was interesting…" and that's it. You walk away with nothing. Artistically, I enjoy and respect the styles of Edgar Meyer, Joshua Bell, Mark O'Connor and Victor Wooten. This is because these men push the limits of their instruments and don't let convention define them. Most people think of the bass as the "slow" lazy hippo of the instrument world but it has so much potential for other things.
WA: What in your life brings you the most joy?
Matthew: Being my best.
Vince: Playing music. Writing. Finishing something that I've been working on for a long time. I love exploring nature and seeing untouched land.
Joe: Sharing my musical "talents" with others or in teaching others how to live in an easier and freer manner with the Alexander Technique.
WA: Where do you see yourself 10 years from now? What do you hope to be doing?
Matthew: I'm still going to be involved in the music industry. I'm going to be coaching and developing artists.
Vince: I hope to just be making and playing music on a larger scale, and getting to travel the world through music.
Joe: Playing and being involved in music and teaching the Alexander Technique.
WA: What is your philosophy that guides your life?
Matthew: "Focus everyday on being the best version of yourself and everything else will fall into place."
Vince: "Just do good things and good things will come." Or, "If you're true to yourself then everything else will fall into place."
Joe: "Everything in moderation" and "Be willing to change."
WA: What have you done that you are most proud of?
Matthew: I've created a career as a professional musician.
Vince: Picking up the guitar for the first time and sticking with it. Finding myself through music.
Joe: I am most proud of overcoming life's obstacles to find myself doing what I love.
WA: What difficulties do you face as indie musicians?
Matthew: All challenges are merely opportunities in disguise.
Vince: Since we play traditional instruments we get categorized as folk and bluegrass environment. We get labeled and put into a "box." We sometimes don't get the time and attention because there are so many indie artists out there.
Joe: Distinguishing ourselves from other musicians.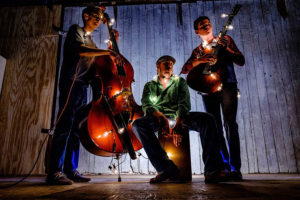 WA: What are the benefits to being independent artists?
Matthew: Definitely having an intimate knowledge and understanding of the construction of this whole thing. "Plus I'm touching every dollar that's coming, that's my word."-Lil' Wayne
Vince: Having full control over your art and total freedom when it comes to expressing yourself. It's still new, young and beautiful and always changing, so it's very exciting to be a part of it.
Joe: The benefits are that you know what you're doing. You know what's going on. You know. When you become dependent something is lost with your relationship to your own music and fans. We do not want to have any type of barrier between us and the people who listen to us. Being independent keeps you hungry, keeps you pushing, keeps you going.
Rivers Links:
Rivers Music
Rivers Website
Rivers YouTube Channel
Rivers Facebook Page
Rivers Email
Join the Rivers VIP Club and receive free Rivers Music