A Gathering Place…..
Welcome to the Visiting Artists section of WildesArt. This is a gathering place of artists, songwriters, musicians, prose writers, and poets, who are creating for the love of creating and touching lives. I am a curious sort of person, so I always wonder what makes such talented folks who they are. What experiences and beliefs have led them to what they are doing at this point in time?
---
Visiting Artist – Eric Neevel by Barbara Hengstenberg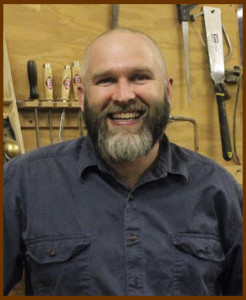 Welcome to the world of the artful woodworker, Eric Neevel. I have had the good fortune to be the recipient of some of Eric's pieces. Nature shines through his work…not only in the wood itself, but through the skill he has brought to each piece. They are delightful to hold and beautiful to admire. Eric lives in Wisconsin, and he tells me his greatest joy is family: wife Kim and "three beautiful children who have turned out far better than we could have ever hoped!" Eric has owned his woodworking business for 12 years now.
I am always intrigued by the wood that is used in such creations…I like to know the type of wood used. Eric's favorite wood to use is black walnut, as "it is so smooth and when crafted well invites a tactile interaction with everyone who sees it. It begs to be touched and caressed." He also favors cherry, ash, and mesquite. While sometimes he has no option but to get wood from large suppliers, Eric has been working a fair amount with urban timber, as well. This is wood that comes from trees cut down in cities and is usually slated for the landfill, but is now being handed over to sawyers for the lumber.
Please take some time to read about this skilled artisan. He speaks openly of his influences, inspirations, and his love of God and family. I think you will find that all of this plays a role in his creations, which you can view at the end of his interview.
Eric and I have been discussing his art and our Visiting Artists Series over the past few months. His words below have been gathered through our discussions.
I invite you to settle in for a spell and get to know Eric Neevel.
– Barbara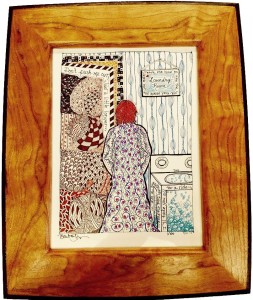 P.S. Contact Eric at [email protected] if you are interested in a beautifully crafted wood frame for your prints!
---
Honestly, it is hard for me to describe myself as an artist. Though, for me the highest compliments I have received is when people say, "Your work is inspiring. You are an artist." I feel, I suppose, that I fell into becoming an "artist" more than anything. My parents bought and sold antiques as a hobby and a side business while I was growing up. I attended flea markets and auctions from the time I was an infant and grew up around great furniture. The furniture in our house was always for sale and pieces were constantly coming and going. I suspect it was there that the seed of interest was planted, but I didn't realize it until I was a young adult. I did rough carpentry from my teenage years on, but other than that I never did any woodworking or built anything. I have never had a shop class or attended any schooling for woodworking. But somewhere around my late teens or early twenties I would start to pick up woodworking magazines from time to time with something that looked interesting to me. I then began to read books and over several years I realized that having all the head knowledge on how to do things required an outlet. So I started buying tools, wood, and making things. With each new project I tried to add one new skill to push myself and learn more. So far, it has worked out.
Music's Influence
Music was always there in my teenage years and it comforted me and showed me things I didn't know or had never thought about. I have several older brothers and grew up listening to what they listened to, — lots of classic rock from the 70's and big hair bands from the 80's. In my high school years I threw myself into listening to music and would immerse myself completely into a genre or time period of music. I went back to the early roots of rock and roll and listened to the sound from the late 50's and early 60's and gained an appreciation for what rock and roll was built upon. Along the way, of course, I encountered certain artists that in their time were pushing the boundaries of expression in a musical and lyrical sense that I grew to love even though for me it was happening 20 years after the music had been released. Specifically, artists like Brian Wilson of the Beach Boys, the Beatles, and Simon and Garfunkel were huge influences on me musically. The love and appreciation for good music and artists that are able to communicate well is still something I enjoy today and I continue to find new artists who are able to do that.
How did that inspire me? Well, I learned so much from music. These songs were referencing events, situations, and people I wasn't familiar with and my natural inquisitive mind caused me to read and study all of those. But more than anything I realized through listening to musical artists who had been at it a long time that it wasn't simply chance that got them there and kept them there. It was hard work. Sure, they had some natural gifting whether through their voice or their ability to play an instrument, but they were also extremely dedicated to their art. That is a good lesson for anyone who wants to pursue their art. In woodworking there is a saying, "Finding something new in woodworking is as rare as finding a dragon's tooth." Therefore if I want to be successful at it, I have to continue to dedicate to myself to learning and stretching myself both as a person and as an artist.
The music I'm playing in the shop depends on the job, the mood, and sometimes the day. I love a great melody with lyrics that cause me to stop and think. So in no particular order — except the first one which is my favorite — The Avett Brothers, The Donnis Trio, Amos Lee, Ray LaMontagne, Brandi Carlisle, Christa Wells, Sara Groves, Paul Simon, Paleface, The Head and The Heart. Certain days, though, it's still fun to go old school and pull up Journey, Queen, The Who, and Boston.
Inspirations
First, is my relationship with God. I firmly believe that any gift I have is because He has given it to me. In light of that, I see the world He created around us to be very inspirational. No piece of furniture or art that I can make can compete with the natural created beauty in a woods, a river, or a sunset. Therefore, I strive to make pieces that are not only functional, but also allow the natural beauty of the wood make its own statement.
Second would be my wife and kids. I am blessed to be able to do something I love and at the same time do it to provide for the ones I love.
Lastly, as far as other artists who inspire me, the list is long. Specifically, woodworkers — past and present — Sam Maloof, George Nakashima, David Charlesworth, Jere Osgood, and Matthias Pliessnig.
I've drawn influences from lots of different people. I love the artistry of the Greene and Greene brothers from the early 20th century. I don't have any desire to replicate their work, but their designs are simply impeccable. Every detail considered right down to how the shadows from the afternoon sun would be accentuated by their work. So early Arts and Crafts style is something I enjoy. I can appreciate the skill involved in many different styles, but I don't personally prefer them. Like Art Deco or the early American Federal period. Beautiful work and highly skilled craftspeople, but I prefer pieces that have a simple stated beauty.
Past Experiences
I started working when I was 11 when I got my first paper route. I delivered my route every day on my 10 speed bike no matter what the weather. Riding a bike in Wisconsin winters to get all of the papers delivered was interesting. I moved on to restaurant work as a teenager, then some time as an inventory control manager and sales manager for an industrial tool company as a young adult. From the time I was a teenager through my adulthood I often worked in construction as well. Usually as a second job or helping friends on nights and weekends. Eventually, I decided to pursue something that had interested me for years – furniture building. I worked 5 years for a production furniture company that also did some custom work. I went into the job with a lot of head knowledge from reading so much about woodworking, but with very little actual experience with building furniture. In many ways this job was a school for me. I was able to take what I knew and actually apply it. This job gave me a nice foundation of skills that I was able to build on when I opened my own business.
Artistic Beginnings
I started out with simple projects: quilt racks, boxes, cutting boards and the like, and then moved on from there. While working for the furniture shop, I learned a lot about making bookcases, entertainment centers, and office furniture, but when I went out on my own I started building what I wanted to build. That first time when you decide to set aside plans and create on your own is frightening. But when it turns out well, it's exhilarating! I rarely sketch or mock up when I'm about to create something. I can see the rough form in my head and then allow the wood and the piece to guide me as I go.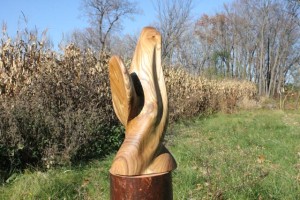 Maybe one of my best examples is my free-form sculpture, "Sanguine". I had never done a sculpture piece like that before, but I had this piece of wood sitting in my shop and I could picture what it was to be. I could visualize it in my head, rotate it 360 degrees in my mind, and see what it would look like. So I simply picked it up one day, took some tools to it, and created the sculpture. I can't wait to try that again someday soon!
Guiding Philosophy
I believe that I am created to glorify God in all that I do. So ultimately, even though I might be making a specific piece for a client or a prospective customer, I am doing it for Him.
Contact Eric at [email protected]