A Gathering Place…..
Welcome to the Visiting Artists section of WildesArt. This is a gathering place of artists, songwriters, musicians, prose writers, and poets, who are creating for the love of creating and touching lives. I am a curious sort of person, so I always wonder what makes such talented folks who they are. What experiences and beliefs have led them to what they are doing at this point in time?
---
Visiting Artist: Kat Lamp
By Barbara Hengstenberg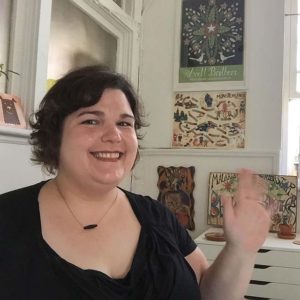 I've been admiring Kat Lamp's artistry for some time now. Her posters are beautiful and have become a recognizable art form: "Hey, that's a Kat Lamp!". However, Kat continues to also inspire me with her Wake-Up Doodles…whimsical drawings that easily make me giggle. These "doodles" have been framed and exhibited, and they can also be found on just about any piece of paper near Kat.
Kat and I met up for coffee recently at The Blue Dot in Pittsboro, NC. I found Kat sitting in the back, sitting among hanging love beads and the aroma of great mochas, sketching (or as Kat calls it, doodling) away! My, how I'd love to get ahold of her sketchbooks!
This is an artist who has worked hard to become respected and successful. While life has not always dealt her an easy hand, she exudes positivity and happiness. And as you will see, this shows in her work.
Enjoy!
* * *
WildesArt: What adventures in your life have led you to where you are and who you are, artistically?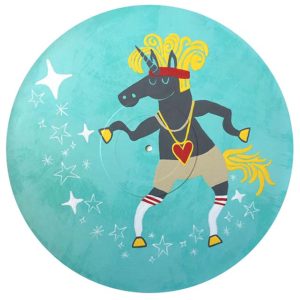 Kat Lamp: I've been lucky to have the adventures I've been on. I started playing bass in bands when I was 16 and traveled around semi-regularly with the friends I played with for about 10 years. We made lots of friends in lots of different places.
I learned a lot about being a part of a team in both a creative and logistical sense. Collaborating on songs, playing van Tetris with equipment, routing tours, selling merchandise, budgeting— basically learning how to do business at a young age while having fun was pretty awesome.
My childhood was unstable and turbulent. Staying with my Grandma sometimes in the summer and during school breaks was something I looked forward to. Grandma is an artist and she taught me how to paint in oils and acrylics. By the time I was seven, I was making my own paintings of lighthouses and ocean landscapes beside Grandma while she made her own. We would watch Bob Ross and Austin City Limits together. I grew to associate creating art with the feeling of love and safety. Amidst the chaos and unreliability at home, practicing art gave me focus, comfort, and perspective.
When I started playing in bands I would help make the flyers with my band mates and loved it. They were cheap ransom note-looking black-and-white flyers with pasted clip art and found pictures and usually full of inside jokes. We would hang out at Kinko's for hours cutting and pasting things. In 1999, I started working at Kinko's and learned a lot about printing and production. I taught myself Photoshop on their computers and started making full-color posters. It was then I learned about gig posters as a legit art form. Friends started asking me to make posters for their bands, too.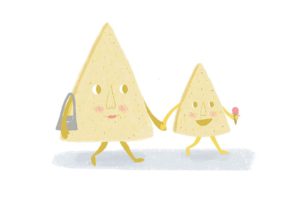 Around that time I started dating a guy in my band who moved into a warehouse on the outskirts of downtown where we practiced. Six other musicians already lived there. It was illegal to use the space as a residence at the time but they wanted a place where they could practice music at all hours. Those guys also did construction work and used their skills to transform the building into a beautiful and habitable space which they eventually bought. For the better part of 6 years I hung out at The Wherehouse almost every day, some of my best memories involve those years. Three of the residents and I started a band called Malabaster and it's still my favorite band I've played in. There was a recording studio and a practice space in the basement, a performance space on the ground floor, and the residence upstairs. We had a lot of fun.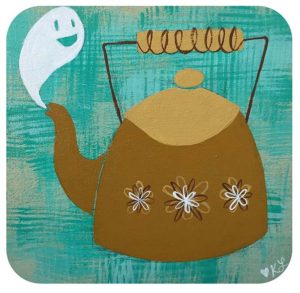 At one point 17 people illegally lived in the building, all creative and amazing. The relationships formed there are a big part of who I am. Bands came from all over the world to play shows. I remember laying in bed upstairs sick one night listening to Godspeed You! Black Emperor play a sold-out show downstairs. It was their second time playing there and it sounded incredible. The first time they visited, there were probably 20 of us in the audience. It was inspiring to see so many great bands through different stages of their careers, the best ones would blow my mind regardless of the size of the audience.
To make a long story short, the The Wherehouse became legit, went through a couple of name changes, and added a bar and a coffee shop and artist studios. I volunteered to make posters for a lot of the music shows. At one time the building housed an art gallery where I had my first solo art show in 2005. The latest incarnation of the building is a restaurant/coffee roaster called Krankies and they stopped having music and art shows to focus on the restaurant. A handful of people still live there. One of my friends is slowly transforming the empty rooms of the residence into a hotel.
Witnessing the slow, organic growth of what's become one of this town's most beloved gathering spaces has been an adventure in itself. I learned the importance of giving creativity room to breathe and time to grow, and that change comes in cycles. Certain phases might not be ideal, but it's all a part of the process.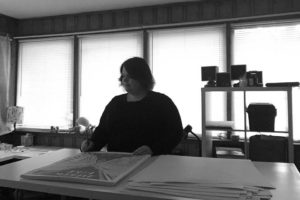 I currently have a studio space in a building downtown shared with 13 other artists called the Electric Pyramid. It sort of rose from the ashes of the most recent Krankies expansion— the 6 artists who had a studio there found this great building to share with even more of us. Being a part of this group keeps me inspired and motivated.
WA: Who inspired you as a teenager? How?
KL: Playing, learning, and listening to music inspired me a lot as a teenager. I saved up my lunch money and bought my first guitar for $50 from a girl in my freshman art class. Growing up working-class in the 90's with a single parent who worked 3rd shift, my world felt pretty small. I was obsessed with the band Fugazi. Hearing them for the first time blew my world wide open. They explored ethics, morals, and politics in a way I'd never heard before, and their sound was so unique. Avail was another band that inspired me a lot at the time. They were the gateway to this amazing all-ages music scene in town that sort of existed under the radar. It felt like every weekend there was a show somewhere, where weirdos like me and non-weirdos alike would come together to watch bands play.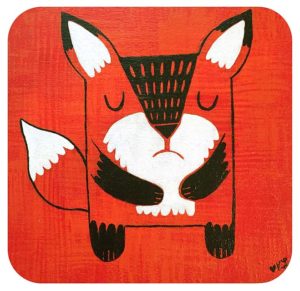 The shows would happen at community centers, skate shops, VFW halls, a couple of bars, houses— anywhere. At one point a dedicated all-ages venue popped up and stayed open for a few years. The majority of us were probably between 13-19 years old, finding places to play and putting on these shows ourselves. We made zines, posters, t-shirts, patches, and flyers. We self-released tapes of our music and spent long hours cutting, pasting, and drawing. The DIY (Do-it-Yourself) ethic was strong— if you wanted to get your art out there— you got creative and made it happen for yourself. Finding that supportive community of artists, musicians and fans inspired me more than anything. Many of us are still friends to this day.
WA: Who inspires you now? How?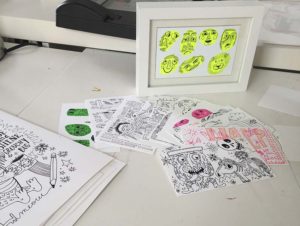 KL: My studio mates and friends in the creative community here keep me inspired. I feel like the art and music community in Winston-Salem is just as tight-knit and inclusive as ever. Many of us who grew up going to shows and playing music together are growing our own businesses here now- a record store, restaurants, bars, coffee shops, a boutique/makerspace, music venues, art galleries, the list goes on. The evolution of this town has been exciting, interesting, and inspiring to watch. In addition to the brick-and-mortar businesses there are just as many artists, musicians, and creative people doing their thing here every day. I love that the culture we've helped create has been attracting younger artists and more creative people to this town. Knowing we're all in this together keeps me going. We work really hard.
WA: How do you develop your poster art? How much say does a band have in what you create?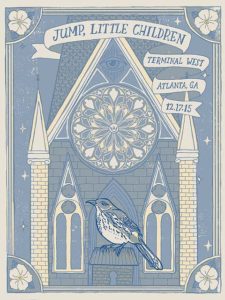 KL: Poster art is one of my favorite things to create. The concepts usually begin with doodling and sketching and writing lists of words while listening to and meditating on the band and their music. I also like to research and learn about the location and culture of where the show is going to be. I like to incorporate local elements into the designs— sometimes they're subtle and sometimes I'll make up a story about a place and incorporate ideas from songs, mythology, and folk tales. Sometimes I'll take a concept from a song and imagine it from a completely different point of view. Then I build up a rough skeleton of a sketch to get an idea of the layout and then I go from there. The rest of the creative process is unplanned to allow other ideas and details to mosey in and to leave room for experimentation. Sometimes I make several versions of a drawing and pick out the elements I like best to scan in and play with on the computer. Lately I've been going back and forth between paper and the computer through the whole process. I feel like I'm starting to figure out my own unique style this way. The bands have never directed what I create. There's been a couple times when I was asked to explore a different idea but that's as close as it got.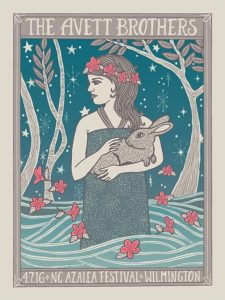 WA: Who are some of the bands for whom you've created posters? Can you share photos of these designs?
KL: I've designed posters for The Avett Brothers, Andrew Bird, and Jump, Little Children.
WA: If you weren't creating art, what would you be doing?
KL: I probably wouldn't exist! I can't imagine a life without it.
WA: What other jobs have you done?
KL: Oh man. It's hard to make this brief! I've been working since I was 15 and worked a number of food service and retail jobs during high school. After high school, I was awarded a paid internship with the art teacher at The Enrichment Center, a local facility that helps adults with developmental disabilities. I did that while working at Subway and Dominos at the same time.
When I saved enough money to move out of my dad's house I got a job at Kinko's. I was with the company for 6 years and became a project manager. I worked in one of the busiest branches in the world at the time. We did lots of big, top-secret corporate print jobs in the back. The company restructured shortly after I left and I don't think they do work like that anymore. I learned so much there but it was the most stressful job I've ever had. It's been over 10 years since I worked there but I'm still shaking off the stress from that job. Some of the extreme production processes led to some unhealthy habits in my creative career.
I quit Kinko's when I was 25 and took out a bunch of student loans and attempted to put myself through college. I knew I wanted to make art for a living and at the time thought a B.F.A. degree was the only way to solve that problem. During that stint of college, I wrote a visual arts column for a local alt-weekly paper, sold paintings, and waited tables. I taught art to middle-school children during a summer program. There was a lot of stressful stuff going on with my family— I had a nervous breakdown, stopped working, ran out of money, and dropped out of school.
Soon after, I worked as a mailroom coordinator at a music distributor and was laid off after the economy tanked in 2008. After that, my husband's parents offered to loan me the money to go to community college to learn graphic design so I could become more employable. When I graduated they surprised me by forgiving the loan. I still have no words for their generosity.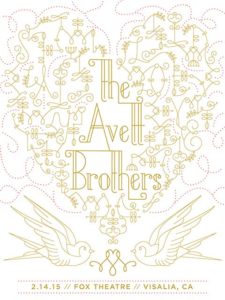 I spent 3 years getting a 2-year degree in graphic design, while working full-time at a bookstore and doing freelance design work to make ends meet. I slept about 3-4 hours a night, worked through almost every weekend, and probably aged 10 years during that time! I started making posters for the Avetts during my second year in the design program and had no idea what I was doing! I hadn't designed a poster larger than 11×17 before and hadn't sold anything online before. I was so excited for the opportunity I had to make it work somehow. My previous mailroom experience came in super handy. I am thankful to this day for that. I've been ready for each step my online business has grown.
After graduating, I worked a full-time production job in advertising for 3 years while simultaneously growing my art business. I slept about 3-4 hours a night, worked through almost every weekend, and probably aged 10 more years! Thankfully the art work grew to a tipping point. In the beginning of 2015 I made a 5-year plan to self-employment and made the leap in less than a year. It was super risky, but I'm thankful I made the decision at that time. I don't think my body or my marriage could have survived 5 more years of stress and exhaustion like that. It's taken about 9 months to decompress from burning the candle at both ends for so many years.
WA: What do you like to do to when you have some time?
KL: I love to travel and walk around and look at beautiful and weird stuff. Seeing the world in a new context is always inspiring. Just walking around everyday places is fun- I like to notice something new every time I go out. I enjoy marveling at the things humans and nature co-create/destroy. I also like to laugh with friends and family, make funny faces out of food, play with our cats, play music, and soak in the vibes at a good rock show.
WA: What is a "typical" day in the life of Kat Lamp like?
KL: Hahaha. Good question! Every day is different depending on what's going on. I usually wake up early, between 6:30-9 and read the news and check social medias on my phone over breakfast. I've learned to stay away from the computer in my home studio until after I shower- otherwise I'll get sucked in and stay in there all day in my pajamas. After I shower I look at my calendar and make a list of what I need to do for the day and go from there. It's so easy to get sucked into email/message land and not get anything else done, so on creative work days I have to prioritize and only respond to time-sensitive requests.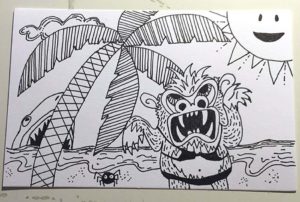 I like to brainstorm and sketch in my studio space downtown and do the bulk of my digital production work at home. I'm still learning how to juggle all the hat-wearing of running my own business and sometimes there are days when all I do is accounting and tax stuff. Having to shift brain gears from left-brain to right-brain work is sometimes overwhelming. I have close friend who is a professional production manager coming in once or twice a month to help triage the chaos of scheduling and goal-setting. I've learned so much from her and am super thankful for her help. Most days involve some form of cat snuggling and errand running and Jeff and I try to have dinner together every night.
WA: Whose artistic styles do you enjoy and respect? Why? How about musical styles?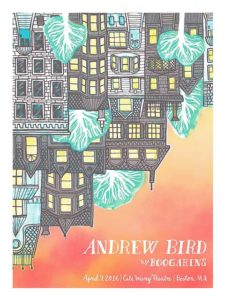 KL: I enjoy and respect art and music that comes from a genuine place, no matter the style. Genuine expression helps me feel connected and helps me learn from unique perspectives. Whether I actually like it or not is a matter of taste, but I enjoy and respect most people who create. Lately I've been nerding out on the art of Maurice Noble. He created the stylized backgrounds in the Looney Tunes cartoons in the 50's-60's. The desert in the Roadrunner cartoons are a great example. He revolutionized animation with his his flat, non-realistic style. His wonky compositions, shapes, and colors were used to reflect the personalities of the characters in each scene. I love his approach to using source material- "You take in a lot of material, and then your subconscious takes over." His layouts were so unique because he intentionally drew from his memory. I'm not good enough at drawing to feel confident in letting my subconscious do 100% of the work, but I aspire to that one day!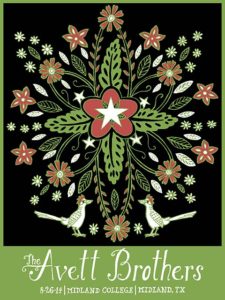 Music I've been listening to lately is the new record by The Avalanches. They're an electronic music group from Australia that uses samples and collaborates with many different artists to collage together fun and quirky songs. The new Avett album has also been in heavy rotation (of course.) I love the new songs and how they're having fun and experimenting with their sound. Other music I've been listening to over past few months include Queens of the Stone Age, Ty Segall, Yo La Tengo, The Minutemen, King Gizzard and the Lizard Wizard, Red Fang, and Courtney Barnett.
WA: What in your life brings you the most joy?
KL: I find the most joy in being creative, making people smile, and spending time with the friends, family and animals that I love.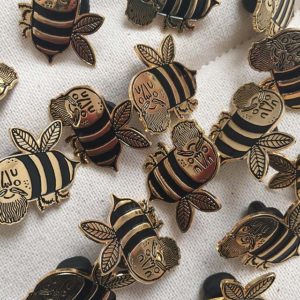 WA: Where do you see yourself 10 years from now? What do you hope to be doing?
KL: In 10 years I hope to be healthier and stronger. I hope my art business is sustainable and strong and I hope to have the resources to give more to the community than I'm able to now.
WA: What is your philosophy that guides your life?
KL: These days I'm just trying to stay positive and remember to have faith that things will be OK no matter what happens.
WA: What have you done that you are most proud of?
KL: I feel most proud whenever I make or share something that someone can connect with. I know that sounds so general, but it's true! I've had the opportunity to work on some exciting projects but at the end of the day, what matters most is connection. I tend to overshare on social media because I love the idea of sharing a laugh or a smile or something interesting with people. There's so much negativity and fear out there, I know I'm only one person, but if I can brighten just one person's day I feel proud.
WA: What are the difficulties of being an artist in 2016?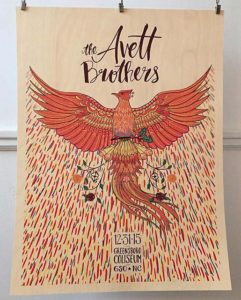 KL: In 2016 there are so many wonderful distractions on the internet! I love seeing what other artists have been up to on Instagram. I'm working on regulating my browsing to just before bed-it's so easy to make time disappear by scrolling through so many amazing pictures. Personally speaking, I feel like it's easier than ever to be an artist in 2016. Social media has helped me meet and connect with so many great people, without whom this adventure would not be possible. The downside to social media I've noticed is the pressure some artists feel to carefully curate what they share and box themselves into one kind of style. So many blogs full of "do's and don'ts" and lists of rules for artists exist, I think sometimes we forget to enjoy the process.
Visit Kat's Website to purchase her art here.
Go to Kat's Instagram page here. @katlamp
Go to Kat's Twitter account here. @katstronaut
Visit Kat's Facebook page here.