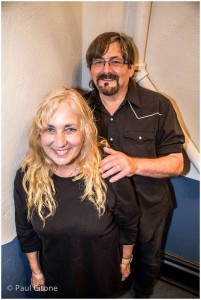 I have always enjoyed hearing about the trials and tribulations of Valerie and David Lee Mayfield's life as The Bluegrass Sweethearts.  They both have such a positive outlook on life, and their music is reminiscent of the bluegrass and country tunes that the Bolduc side of my family performed.  I've always had the sense that Valerie could be my long-lost cousin.
With her positive spin on life, I'm delighted that Valerie has joined WildesArt as a blogger about life on the road as a musician.  In addition, they are the proud parents of two very talent children, Jessica Lea Mayfield and David Ray Mayfield.
Valerie and David seem to always be off to a new gig.  Check back often to follow them on their latest adventures!
♥Barbara
Visit The Bluegrass Sweethearts here.
---
August 7, 2015 – Gig and a Rig…The Rig is Up!
Gig and a rig is no more!  We started out on July 13th when Jessica Lea Mayfield, our daughter, went with us to pick up our truck, a 2007 Peterbilt 40 foot straight truck.  We brought the truck home and loaded it with our needed possessions and our American Bulldog, "Petey."
We went into service the next morning, July 14th.  We waited all day in the driveway for our first load, but nothing.  We left home in the evening to avoid a large thunderstorm that would flood our driveway, and made it to the Pilot truck stop 10 miles down the road, where we spent the night.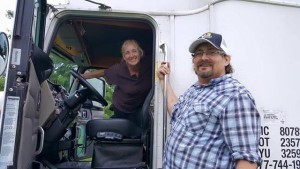 The next day, we were still waiting for the first load.  David Ray Mayfield, our son, and Hanna came to see us to bring some groceries.  Finally, at about 5:00 p.m., we received our first load…a long one from Cheswick, Pennsylvania, to Taylor, Michigan, and then back to Cheswick.  The trip took us all night and we finished at 8:00 a.m.  There were problems at both ends of the trip with the lack of proper paperwork, which caused delays.  Also, we had to load and unload the truck, which we weren't getting paid for.  This first load had us up for 25 hours with no sleep…  The load paid $440 minus the fuel of $150.  Our pay scale was a 60/40 split, with us making 60% minus the fuel cost.
We then asked for a load toward our next show in Jonesborough, Tennessee; unfortunately, we received no such load, so we had to drive to Jonesborough with no load, but pay for more fuel…
The Jonesborough show was great!  We parked the rig on Main Street and performed for a large crowd in front of Courthouse Square.  After the show, we spent the night in the lot of the local Walmart.  After a few days of waiting in the truck, we finally got a load from Telford, Tennessee, to Columbia, South Carolina…another long trip that had us up for 24 hours.  We spent many days in South Carolina with no load.  We did get the AC fixed in the cab of the truck, as it was terribly hot our first week.  Dispatch ended up giving us $50 for fuel after several days in South Carolina with no load, in order to move the truck to Cookeville, Tennessee.  Of course, the trip cost more than $50 in fuel, so we once again paid and then waited in a different Walmart parking lot…
From Tennessee, we finally got a load to Greenville, Michigan, to Indiana.  That paid $110 and took over 12 hours.  It was very disappointing, and really made us look at the bottom line of our trucking adventure.  We tried for a load to northeast Ohio so we could stop by and check on our house, but Dispatch could not find us a load.
We had been on the road for two and a half weeks, living in the truck and at truck stops and Walmart parking lots.  After paying for fuel, our pay for two and a half weeks worked out to $511!!!  (Less than $125 a week per person…not much for being on call 24 hours a day…)
With no load, we drove the truck back, turned it in, and quit!
We were led to believe we would make at least $2,000 a week as a team, but instead lost a lot of money living on the road, had to cook all our own meals, never ate out, and bought all the fuel.  They couldn't get us loads anywhere, let alone in the cities where we were performing.
This sounded like a great idea to make money between our shows, but it turned out to be a big mistake.  The sleeper was too small, and being on call 24 hours, with the loud generator, the noise of other trucks' generators at truck stops, it really wasn't quiet enough to pick and sing…never mind time to relax or sleep or enjoy life!
So, I'm back to selling real estate and David is back to full-time bookings.  We have some great festivals lined up for next year, and truly think we still make a great team as The Bluegrass Sweethearts!  That seems to be a perfect fit for us.
Our hats are off to all the truckers out there.  Hope they treat you right…watch out for the DOT!
Valerie