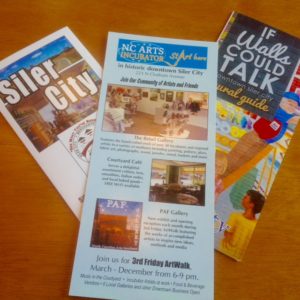 Chatham County, North Carolina, is teeming with creativity. Creative people, murals, artwork, art galleries… You name it, and it seems like we've got it. And if we don't…we'll create it! But finding the space in which to create can be difficult. I've carved out a room in our house for my studio, and I know others who love to paint, draw, or write outside…plein air…
Then yesterday, I ventured out to Siler City, known as the last home and burial site of Francis Bavier (a.k.a. Aunt Bee from The Andy Griffith Show). The more I travel Route 64 West, the more I fall in love with the scenery: dairy farms, open space, a stained glass warehouse, and an alpaca farm. Once I reach the city limits, however, it looks like Anytown U.S.A., with a Walmart, gas stations, convenience stores…you get the idea.
Yet, driving just a mile or so into "Historic Downtown Siler City," sits this humble small city, subtle in its beauty. At least 9 murals decorate buildings within walking distance to one another, with more being planned. And in the heart of it all is the NC Arts Incubator.
I met with the Incubator's new director, April Weaver, who took me on a tour of this impressive space. Within these walls is housed a retail gallery, a new exhibit gallery, studio space, workshop space, and a coffee shop. This is a colorful, warm, and inviting place. April took me downstairs to a large clay studio, where I was lucky to see two clay artists at work. Afterward, when we entered the painting cooperative studios next door, the smell of oils and acrylics piqued my desire to put paint to canvas again. Anyone who is looking for affordable, cooperative studio space, this is the place!
I'm looking forward to getting more involved with this non-profit organization. April, the board, and volunteers have great vision for this space, and I encourage folks to go visit and see what they're up to…and maybe buy a piece of art while you're there.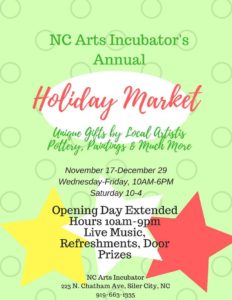 Their Holiday Art Market is open November 17-December 29. This is a chance to shop for handmade holiday gifts by local artists. Art such as paintings, pottery, jewelry, fiber products and notecards will be available. (I'll have some work available for sale, too.) Opening night is Friday, November 17th during the 3rd Friday Artwalk. There will be live music inside at Courtyard Coffee and the Holiday Art Market in the PAF Gallery. The perfect opportunity to Shop Local!
Holiday Art Market: November 17-December 29: Wednesdays through Fridays 10-6 and Saturdays 10–4.
If you see me there, please say hi!
Visit: NC Arts Incubator: 223 N Chatham Avenue, Siler City, NC 27344 (919) 663-1335
www:ncartsincubator.org email: [email protected]