I am delighted that Chad Hollingsworth accepted my invitation to be WildesArt's Resident Poet! Besides painting pictures with words through his poetry, Chad is literally a lifesaver. He is a flight medic, serving Tennessee and Kentucky. I think once you read Chad's introduction to himself, as well as once you read and ponder his poetry, you will agree that WildesArt is lucky to have Chad on board!
The profits from the purchase of drawings inspired by Chad's poetry will go to the Monroe Carell Jr. Children's Hospital at Vanderbilt, Nashville, TN.
Check back often for featured poetry by Chad, and leave a comment for him below. I'm sure he'd love to hear from you.  
❤️Barbara
---
Resident Poet: Chad Hollingsworth
"Love is whatever brings satisfaction to our soul while enlightening others around us."
I am a seeker. I have had more than my share of careers. I have owned more cars than most do in a lifetime. Finding peace has been a lifelong journey. I used to hate myself for never finding peace within the day to day. The truth is, I only find it in the process of seeking. So, poetry has become an expression of my continual search. Looking for meaning — that is my life's quest. And poetry is an outlet that makes sense for me.
Out of college, I began the pursuit of titles and business cards. I wanted all that life could offer and found myself ill with want. Now, I'm just happy to be a smiling soul. I am a husband and a father who lives in a rural community just outside of Nashville, Tennessee. As far as what pays the bills, I am a flight medic serving the residents of Tennessee and Kentucky. I find great joy in doing my best to help others in need.
---
September 1, 2016 – Wisdom's Symphony
I am a man of faith. Yes, faith as far as religion is concerned. But also faith in the world around us. Faith in each new day's dawn; or perhaps better stated- faith that I will be presented with a new lesson each day. The question is never "Will this day be different?" For each day speaks to us with unwavering determination. The question for each of us truly is "Am I in the right place physically, emotionally, and spiritually to hear what lesson might be presented to me today?" And when we greet each day with hopeful expectation, we are surely in a place to richly receive.
Wisdom's Symphony
The sun, it warms my face
A gentle breeze, it's sweet embrace
A dirt path low, beneath my feet
There's no place else I'd rather be
Full trees surround a field of peace
Flowers dance with grace and ease
I am alone, away from mankind
Your granite church renews my mind
My heart has plans, but you guide my steps
Though darkness comes, you remain my help
Through valley deep to mountain high
I feel your presence, you attend my cry
Your word surrounds my every move
Though rocks abound, my steps are smooth
Near mercy streams, my heart is blessed
As songs arise from within my chest
I sing along with sweet nature's tune
Percussion in trees from wind subdued
Soprano notes within the swallow's song
This symphony which croons no wrong
The teacher speaks in quiet days
Wisdom gained through divergent ways
Glistening stars speak up from above
O' constant reminder, the sure light of love
And so here I'll stay, sway and live
For I have nothing so great, to offer or give
As the lessons learned from nature's shelf
Each new day's dawn- a treasure within itself.
©Chad Hollingsworth, 2016
---
June 6, 2016 – The Potter's Lesson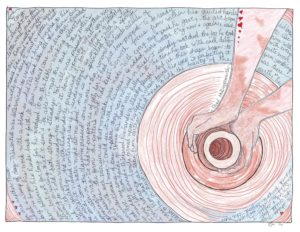 I wrote The Potter's Lesson after being inspired by the work of several artists. I had been challenged by Barbara to collaborate with her on a project on love for the Display of Love exhibit. I was eager to get started, but wanted imagery that demonstrated the effort that true love demands. After seeing some work by a potter friend of mine, Sean Tribble, I remembered back to a fire investigation that I had done years ago at a home where a potter lived. The home was a total loss, and as we sifted through the ashes, I knew the devastation that the artist must have felt with so many valued treasures and creations had simply broken into pieces in a matter of minutes. Upon this recollection, another artist friend of mine had started a painting with the subject of a potter's hands. Finally, the pieces all fell together. After doing some additional research on the process, I hope to have painted a fairly accurate picture of effort that goes into such a demonstration of love. Love is about relationships, whether it be between an artist and their form or whether it be between individuals. Therefore, I hope the reader can gain insight, inspiration, and perhaps draw the contrast between what so many believe love to be and what it actually can be in its most selfless form — the blessing of another.
The Potter's Lesson
Love- for long, I thought
a four letter word
just as any other
Over-used and under-meant
like food and fun, but rarely
for one another
That is until- one day I saw
a potter, his wheel,
and a lump of clay
This artist was determined
to create and bring-
purpose to his day
He began his work
with a block so solid
It's look like all the others
But then- between his hands
back and forth it flew
without a care nor druther
Rounded now- but
not for long, for
he wedged it on the table
Working silently
and strong, ensuring
that it soon'd be able
To meet the task
of the potter's vision to
hold both strong and steady
For all was pressed
together nice, and
with some water- ready
He threw it down
upon the wheel
spinning rather quickly
And with his hands
he pressured it, both
down and in- intently
He said it needed
centering, as if
I understood
He smiled and with
a wink he said, "Some
water might do me good."
And so he sprinkled
from a sponge
some water on the clay
He pressed some more
and then, removed his hands
outside of spinning's way
It had no purpose
as of yet, for it had
just been prepped
To be ready to
assume the form
the potter's mind had kept
So, with focus from within
his guided hands
did begin to shape
They moved with
such precision so that
no mistake was made
With every tug and
push he gave,
the art began to rise
You could feel every
intentional move-
I could see it within his eyes
He added more water
E'ry now and again, each
time with a wink and smile
I had lost my sense of
time and place
there was no rush or trial
I simply watched the
joy he took with
every passing minute
He'd grown so muddy
from hands to 'bows
His heart was fully in it
The time he took with
each deliberate move
showed purpose beyond the now
It rose and fell,
thinned and thickened
his hands a steady plough
And as this shape
began to form
something I could recognize
A smile formed
upon his lips, and
a gleam found his eyes
So perfectly, it was there
A vase! From what was
taken from earthen's dust
"Made to hold the
beauty of the earth,"
He stated to me in trust
He set it aside
to dry awhile, and told
me to come back
So back to work I
went, but it was hard
to stay on track
A few days have passed
since I was there
But today, I have arrived
The potter smiles at me
and says, "Perhaps
we should meet inside."
Within the studio I see,
the vase He formed- by
his own great pleasure
As we walk the whole
room through, he tells
me of his treasures
It sits among so many
others, each with their
own distinctive look
But this one looks dull-
while most are colored
bright, no detail left forsook
He says to me,
"I've waited for you
to help me finish this piece."
He asks my thoughts
as colors abound
the paints applied with ease
And after awhile, we
both admired the work
that we had done
I thank him for this
experience, for
his time and the fun
But, he explains, the process
was not yet through,
the oven still awaits
For "The firing is what
makes it strong and
holds it all in place."
So to the heat
the art it goes,
but I dare not leave this time
I'll wait until this
treasure is done
And then perhaps call it mine
For days it remained
within the heat so strong
All the while the Maker kept
His vigil to make sure
the heat remained, for
I do not believe he slept
Finally, when the heat
was gone, he pulled
from within the stone
The vase was bold
Strong and sure, while
the colors so brightly shone
It was within that moment
that I learned what
love must truly mean
It is a process of
patience and work,
and definitely not clean
And when all seems it
is complete, it's the
work that we'll remember
Fondly within our
heart of hearts, and
to that love- surrender.
©Chad Hollingsworth, 2016
---
This is one of my personal favorites. I wrote this while reflecting on how I'm influenced by others throughout my process of decision making. These decisions can be as large or as small as you care to imagine. The main point is that we are all influenced by those with whom we choose to surround ourselves. There is no getting around it. As it has been said before, "No man is an island." We share this world with many others and are better off when we take note of their influence upon us. Sometimes, all it takes is a little reminder.
The Owl
The owl sits with reason
up on the old elm
just a few hundred yards
beyond the barn
Looking around while considering within
Not asking why nor how
Only repeating again and again
the same damned thing
Who? Who. Who!
Is he asking, telling or commanding?
I still don't know…
I guess it depends on who you ask.
My neighbor says he's asking…
Asking who will carry the message of light and love.
Is the burden too great or the task too tall?
My mother says he's telling…
Telling all of us to look around and see who remains sincere.
She sees more than most and I think it's 'cause she looks with her heart.
My father says he's commanding…
He's reminding us all that life is short and relationships are what really matter.
He's shouting cause no one seems to realize the importance of a shared moment with another.
I expect him to fly away, but instead he remains.
It's funny how natural things rarely meet unnatural expectations.
Seconds turn to minutes and minutes turn to hours.
The snow begins to fall.
He asks, tells and shouts once more,
And as I turn to continue this journey of discovery-
Sure that this feathered friend will never grow tired of the same reasoned line of thinking
He flies off-
to another branch in another tree to share a moment with another.
And I am thankful for my moment with the owl.
For this is why I share it with you.
I'm not asking, or telling, or commanding…
But somewhere, I am sure that he is.
©Chad Hollingsworth, 2015
---
February 12, 2016 – The Estate of Doom and Gloom
My heart has been broken multiple times over the years when I have been confronted by the reality of depression. At times, I have struggled with my own form of depression, but I have never succumbed to the finality of it's strong grip. I have hurt as I have watched the medical patients before me lose their battle with such a debilitating disease. And I hurt when I see those whom we celebrate as successes in life give into the allure of an escape from their own torment. I know that we can't save them all. And I know that it's not my fault. But somehow, maybe just in some small way- a simple smile, a hug, or a good word in due season can. Here is my take on the bastard disease of depression.
The Estate of Doom and Gloom
I shudder to think
of the steps that one takes
to enter the estate
of Doom and Gloom
But onward they walk
despite incessant talk
of the struggle found within
the House of Doom and Gloom
I had strolled by just twice
the outside looked nice
but the windows were darkened
with shades of Doom and Gloom
I watch as others roll in
carrying the weight of their own sin
a single-file line with others like them
not speaking of the Doom and Gloom
But after standing awhile
I, too, lost my own smile
and began to contemplate the trials
of my life's own Doom and Gloom
And without being readied
I fell in line, however unsteady
and began the slow procession into
the Estate of Doom and Gloom
As we walked the path toward
that stately risen front door
which accepts all, rich and poor
into its halls of Doom and Gloom
And though no one is speaking
the solemnized remain keeping
all in line with a common bond seeking
acceptance into this Doom and Gloom
Step by step I'm still nearing
with my numbness now searing
fear takes over my steering
as I greet the door of Doom and Gloom
The screen door is screaming
as one by one we are surrendering
through fate's turnstile we're streaming
and all faces are filled with Doom and Gloom
But the inside seems sweet
there's a lack of the same heat
that's found on the busy streets
surrounding this house of Doom and Gloom
There's a hollowness in our presence
despite the furniture and antiques so opulent
and the carpeted path which comforts each step
within these hallowed halls of Doom and Gloom
And as we enter the grand ballroom
there's a band playing out of tune
with songs sung in some ancient rune
about our lives within this Doom and Gloom
But suddenly I begin to realize
so much I've believed are only lies
and I find myself longing to flee the cries
of those living within this Doom and Gloom
Fighting the flow of an unending crowd
I press toward the door still screaming loud
but no one objects for all seem to be cowed
to remain inside the house of Doom and Gloom
As I break through and into the sunlight
all seems to pause and admire such a sight
of someone decidedly waging his own fight
against the allure of the Doom and Gloom
But it wasn't until I reached the streets
that others would stop and finally speak
of what brought them here and what made them weak
to the ever-calling estate of Doom and Gloom
And so for a night I slowed maybe half
but of that half, half remained trapped
determined that destiny had already mapped
their walk into the house of Doom and Gloom
But for the few that broke off their stride
we walked for awhile and then stopped, and we cried-
Heartbroken for those that had just given their lives
and still yet remain in the Estate of Doom and Gloom
And since that day, I'll still take a glance
But only from afar, for I don't want to chance
that just perhaps, I'll be so sweetly romanced
to visit that house on the corner of Sunset and Soon
But for most days, when I'm not taking a look
I stand in the streets, greeting others who forsook
That grim advance that's not written of in books
And smile when I walk between the sunrise and moon.
© Chad Hollingsworth, 2016
---
February 2, 2016 – Sophia
Sophia is the Greek word for wisdom. You may or may not have known that. While I have spent years studying some of the world's most recognizable philosophers, I had never looked to past literary giants for a greater understanding of the world around me. I appreciated their words and the pictures they painted for me, but it was very rare for them to drive me into a deeper thought study. I came across the following words that Edgar Allan Poe wrote in an article of the Southern Literary Messenger in July 1836- "As regards to the greater truths, men often err by seeking them at the bottom than at the top; the depth lies in the huge abysses where wisdom is sought- not in the palpable places where she is found." Oh, how I have missed the great truths just on the surface while having my head buried within so many abysses. This is a reminder to us all to see what you see around you, feel that which is near, and never stop giving truth a second look when you catch its glimpse.
Sophia
Many have searched but few have found
Your decadent presence by sight or sound
For while most men dive the depth below
Only for you while forgetting the soul
But I have seen more than a glimpse
Of your starlit face and bright countenance
For though you exist within the deep
You most often roam while most men sleep
And I have found it's not you that hides
Oh how blindness 'bounds in light of pride
Too pure to be held by one's selfish hope
No man can stand on that slippery slope
So while most men search, I shall but sit
With such truth in notes of lives well spent
For you are not where it's too deep nor dark
But on the surface of our minds and hearts.
© Chad Hollingsworth, 2016
---
December 30, 2015 – Perhaps
This poem was inspired by the wonderful trips of Michelle and Sarah West. I so enjoyed seeing their posts, reading their words, and admiring their pictures that I had to put it into words. I have only been to North Carolina a few times, but I've always walked away with a memory. I love my Tennessee home, but there is something magical just a bit east from me. Go for yourself and be inspired!
Perhaps
Perhaps I think of you too often
Just a bit, throughout the moments of my day
I dream of your passionate surrender
An unspoken love which begs me not to stray
I think of your silent softness flowing
Of swirled locks straightening before falling long
Then, with passion, you speak so lovely
Crashing like thunder, both sweet and strong
I dream of your curves around me
As I glance your distance from head to toe
I long to climb and test your highest peak
Only to come down and rest in your valleys low
I imagine a morning fog upon us
Settled in and holding both quietly tight
Then, with nature's determination rising
Gone completely, opening for us a starlit night
I live to walk in reverence beside you
Within an open field encircled by trees so dense
Refreshing are the flavors of every season's dew
Intoxicating is your sweet and delicate incense
I've witnessed the sun rise and moon fall
Among the four seasons of this earthly realm
And with each day, I hear your beckoned call
Beseeching me to come back around
And so, I return to you, my homeland
And upon returning find a joy within my heart
Together again like passionate lovers' hands
Embracing this day upon which we start
I'm thankful to be found within you
To share these blessed moments in time
For you offer peace and all that is good
You are my mind's love, my sweet North…my Caroline.
  © Chad Hollingsworth, 2015
---
December 4, 2015 – The Battle
This is the first poem I've completed in several months. I wrote this poem in one setting with the exception of the first line. Much of my writing seems to come that way. I'll have one line that comes to me and remains for awhile. Then, in its own time, the rest will come together. To me, it speaks to the battles we each face that call us to choose those things for which we're willing to fight. Often, I have to make the conscious choice to fight my own apathy, exhaustion or distractions. I'd love to hear what it speaks to you.
The Battle
The most arduous warrior requires no war
But is willing to sit silently and seek
To know his most intimate desires
And take comfort in the reality
That his most delicate work
Remains unfinished
To accept one's own brokenness
Is the path that leads to unity
With the Source that fully
Knows our brittleness
Yet still loves us
Can this embattled one
Accept the invitation
To surrender
In order
To be?
The question
Is before us all
What shall we do
When our eyes are
Opened to the light of love
Will we seek
To protect our own
Interests before others
Or will we boldly enter into
The arena of life with but one agenda
This is the insistent command
Before humanity in such trials
To seek fulfillment through promotion
Only of others while the arduous warrior within
Remains contemplative wrestling with the loss of self.
  © Chad Hollingsworth, 2015
---
August 17, 2015 –  The King Has Fallen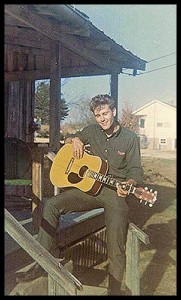 I wrote this poem the day my father passed away. It has been six months since that excruciating moment in my life. I still miss him daily. He was truly the best man I've ever known and I hope to be half the man he was. Ironically, the first stanza of the poem came to me several days before his passing. Although I loved the phrasing of it, I could not bear to think of his leaving. So I shoved it back for what I thought might be months or years. Instead, this poem came to life only days later. I pray that as you read this, you might think of the legacy that you will leave behind. And that you might leave others well within your wake.
The King Has Fallen
The king has fallen, the king has fallen,
my hero has gone away-
I wished and hoped, I've prayed and cried
but a hero has left us today.
He was valiant in battle,
Rode strong in the saddle,
Known as a man among men
He was loved by us all,
Made no man feel small,
Ruled only by a kingdom within
His patience was long,
His mind ever strong,
The noblest I've known for sure
And though he'd deny it
And probably decry it,
His heart was nothing but pure
He stood for what's right,
A steady watchman by night,
He taught through his witness of love
His arms always extending,
To fix what needed mending,
He served by God's grace from above
A helper of strangers,
Never running from danger,
He'd forgive the most foul gallows bird
All knew they could believe him,
Even when hours would run thin,
Like forged steel you could trust in his word
Devout father, loving husband,
A redeemer of hushed kinsmen,
His life remains a lesson for all
And could he even now speak,
He would remind us to still seek,
So that all might heed heaven's call
The king has fallen, the king has fallen,
my father has gone away-
And though it still hurts, I no longer thirst,
for I'll see him again one day.
  © Chad Hollingsworth, 2015
---
July 26, 2015 – The Journey of
There are moments within any artist's life when things just don't flow. Everything they produce feels contrived or at best half-hearted. Many things can precipitate such times, but to those with a creative heart, moments in that place can feel like an eternity. I wrote this after being rescued from such a place. A simple gift made all the difference and inspired me in this writing. We, as artists, have a responsibility to look out for one another, pick one another up, and stir one another's souls. My prayer is that this might encourage you to make a difference in another artist's life like the one that has been made in mine.
The Journey of
I walk alone-
along an untraveled path
Dangers in dark corners are enshrouded
by the hanging background of possibility.
This walk is the journey of life-
A man's quiet quest for purpose
As his determined destiny wars
with the faint call of creativity.
Within this arduous act
of being present,
the individual is put to the test
All that inspires and builds faith
can also discouragingly overwhelm.
Like a drowning sailor
captured fully and held firmly
by that which he loves most-
This is the seeking man living life.
Within the soul's sinking
A desperate hand
Reaches out with hope
Fate, like quicksand
Has man struggling
Once again
And just before
The gulp of fated death
is swallowed
The outstretched hand
from a fellow traveller
offers the hope longed for
A breathing bridge that
uplifts his feet and soul
and patiently sits with him
beside the banks of sanity
This is the journey of a man
through this beautiful, ever-changing
catastrophe called life,
and my sincere "Thank You"
to those I call friends.
  © Chad Hollingsworth, 2015
---
July 20, 2015 – The Unfurling of Autumn
I've only been actually calling myself a poet for about a year. Though I've written since being a teenager, I never thought of my work on same level of the greats I had read so much of — poets like Frost, Thoreau, Longfellow, Shakespeare, and Alcott. How could I share the same title? But a little while back, some artists that I had grown very fond of, convinced me otherwise. One of those artists is Michele West. I was pleased and honored when Michele asked me if I might find words to one of her brilliant works. The title of her work is The Unfurling of Autumn. As I looked into her creation, I saw the colors of my favorite season, but I also saw something elegant and feminine within her work. For Autumn is a rare beauty for those that take the time to get to know her. And for those that peer deeply, she will unfold before your eyes. I hope you enjoy both creations as much as we enjoyed creating them.
The Unfurling of Autumn
As the band plays along
before those that cheer
Autumn unfolds
At this time of year
Her heart sings their song
Her blues shed a tear
Yes, Autumn alone
With so many near
Thinking she's beyond this
Still yet, she's here
This psalm of Autumn
With tomorrow unclear
A night chill is upon her
To be held is so dear
For an unfamiliar warmth
Helps move hurt to cheer
The feelings are strong
But so is the fear
Could this be the one
To hold back the years?
Letting go-
A step so unsure
But even green leaves
In season, mature
A transition of life
As bold beauty takes hold
The colors bleed brightly
And love's stories are told
It's the loud surrender of fall
After summer's quiet heat
It's the rocky climb that leads
To Autumn before us, which few truly see
This is the unfurling of Autumn.
  © Chad Hollingsworth, 2015
---
April 17. 2015 – Letting Go
I started writing this poem thinking of the changing seasons. With that thought process came the understanding of the changing seasons in life. It wasn't until I was almost done with this poem that I realized that this was becoming my heart's expression to my oldest daughter getting ready to graduate high school and start a new life as an adult. I am pleased to dedicate this to Chandler, my oldest child, as she begins life again and welcomes the experiences that await her.
Letting Go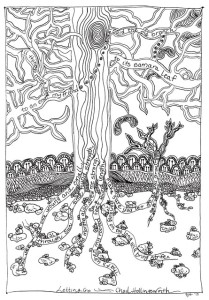 All things must come to an end my friend,
Said the old branch to its' samara leaf,
And seeing how we're connected and all,
It seems that time may be your thief.
You see I once was young and small,
And through Sun and time found strength,
But the cold months also grew me strong,
That's when my rooted feet found length.
Time has changed me, that's for sure
With my longer ends and wider base,
And with this weathered life I lived,
I earned these wrinkles on my face.
I've seen the seasons come and go
Some longer and darker than I wanted,
I've seen the children running through
And heard their talk of trees so haunted.
But I've been determined to just be me
And that's all that we each can do,
So covet not the flowers below,
For none can match your beauty through.
But before I ramble along too much,
Please forget not my strongest advice,
Make sure you let go as you grow,
Hanging on too long will bring strife.
So when the next good strong wind blows,
With trust, release and take your flight,
You'll twirl around and see this world,
Before you settle into home so tight,
And with some time, rain and rays,
You'll soon become a tree like me,
Then, stand firm before the world,
And encourage the seeds from thee.
  © Chad Hollingsworth, 2015
---
 April 3, 2015 – The Cartographer
My experience has taught me that oftentimes, the most treasured riches are found in the most unexpected places.  And this poem is about finding rich treasure.  I believe that people and relationships are the maps for each of our lives, or at least they should be.  For all else will fall away.  But, if we are willing to truly get to know those that are placed within our lives, we will find treasure.  It matters not how we cross one another's path, only what we are willing to learn in the process.  – Chad 
The Cartographer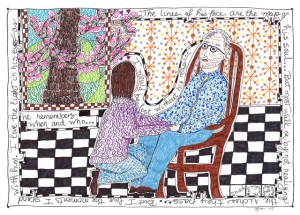 The lines of his face are the map of his soul.
They say not where, but how he has lived his life.
Less old than tired, more traveled than parked.
This map serves as a beacon to all those that take the time to look.
And, if one is willing to ask,
he receives the precious treasure that he doesn't even know he seeks.
But most walk on by, not realizing the riches they pass.
Though glorious, society regards him as waste and his map too arduous to consider.
But I love the moments I spend with him.
I love the light in his eyes as he remembers when and who.
I would be lost without his map. And I'd not be thankful for my own,
regardless of how deep the trenches may run north to south and east to west.
For those trenches tell more than a story.
They guide you into the depths of my ever distant heart.
I'm still learning to read maps. I owe my friend for that gift.
And one day, by the strength of grace,
I'll be comfortable enough to stare into the mirror of my soul
-and see where the road goes from here.
  © Chad Hollingsworth
---
 March 27, 2015 – The Romantic's Dream
I love this poem because of the way it was born. I started it with no end in sight and simply let it become what it became. I am a romantic at heart. For I have found nothing more sweet or satisfying as the quest for love in my own life. And I have found love in many different forms. Love is whatever brings satisfaction to our soul while enlightening others around us.   – Chad 
The Romantic's Dream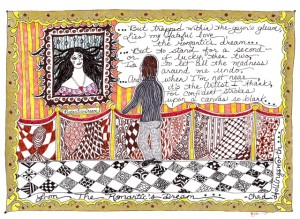 She sits on high for all to see,
Loved by some but mostly by me,
Right up there in a cage of glass,
Sits a work of art – the painted lass.
Along the stone beside the velvet brooke,
The masses stroll by and most take a look,
But trapped within the gazer's gleam,
Lies my fateful love, the romantic's dream.
I see her some days, but not nearly enough,
For the lines are long and the journey tough,
Worth more than the effort and time that is spent,
To be seen by her soft eyes in this crowd of torment.
But to stand for a second- or if lucky, then two,
Is to let all the madness around me undo,
And for those brief moments all seems to make sense,
Despite this great torrent of talking heads so dense.
And when I'm not near, it's the Artist I thank,
For confident strokes upon a canvas so blank.
This lass that's so lovely with hair like the night,
Has a smile that sparkles with teeth of pure white,
And that face… her face sits upon the most elegant neck,
And speaks to my heart of God's constant beck.
Therefore I arrive, when able, a few minutes too soon,
And rush to her gaze where I am sure to find boon,
And if I dare speak, I swear she speaks back,
Though none truly hear her, which is my heart's wrack.
But for me, she is comfort, peace and God's love,
A twig of green grass within the mouth of a dove,
For she's my firm landing in a life of constant storm,
She is my reasoning, a perfected work of love's form.
  © Chad Hollingsworth