Welcome to our network of artists who collaborate to be a positive force in the world! This is a place where you can read, see, and listen to others' creative thoughts.
My Zen art prints are available, with all profits supporting charitable organizations. New prints are added often, so check back frequently!  All designs are also available in notecard sets. In addition, I now offer one-of-a-kind Custom Artwork.
Our combination of bloggers in Community Bloggers… artists including writers, poets, musicians, cooks, farmers, and a yogini…will give you ideas on living life in balance.
Read our variety of interviews to find out what inspires creative souls to create, under Visiting Artist Interviews.
WildesArt is really about living life in balance and sharing ideas on how to do so creatively. We always love to hear from our visitors, so be sure to leave a comment!
♥ Barbara
---
What's New?
---
Frame It Forward partners with Press On Fund to bring a multi-faceted approach to raising money and awareness for childhood cancer research.
Each week, Frame It Forward is offering a different custom framed print of an Avett Brothers poster.  The frame is intricately designed to reflect the artwork which it holds.  In order to donate to this worthwhile cause and have a chance to win this week's poster (below), visit https://www.crowdrise.com/frame-it-forward.  
This week's framed poster is below.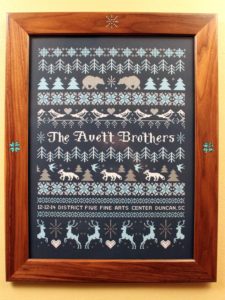 ---
Celebrate the Holidays and Give Back
Two designs are available, with all profits going to Press On Fund, supporting children's cancer research.  Give back while you spread cheer!
---
© Barbara Hengstenberg and WildesArt, 2016.
Unauthorized use and/or duplication of this material without express and written permission from this site's author and/or owner is strictly prohibited. Excerpts and links may be used, provided that full and clear credit is given to Barbara Hengstenberg or specific blog author and WildesArt with appropriate and specific direction to the original content.