I recently asked a group of creatives…
What ignites your creativity?
My friend, Pamela Robinson-Thompson, a successful business/life coach and artist based in Texas, reflected on this question. Personally, I was so inspired by her response, as well as by the whimsical creations she shared with me, that I knew I had to share them with you!
Enjoy Pam's thoughts and artwork..
*****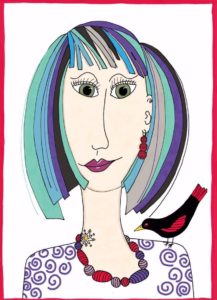 "I mostly get inspired by nature, other artists and the Universe. I sincerely feel a lot of my work is really divinely inspired. Ideas will just pop into my head, as if they are downloaded through the Universe. A lot of times my work inspires me, too. The ones I keep & share are of course the ones I enjoy. When I'm having a tough time creatively, and I really want to create something that feels good-I'll look at my past work. Then I think, Wow, I did that, let me see if I can create something that feels as good as that or even better! Then I get on a roll. I was art journaling last night- only happy with a couple things I did. Then I looked at this :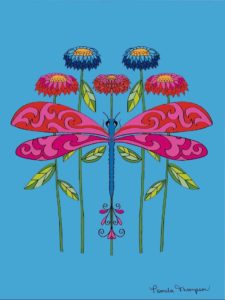 Which inspired me to create this: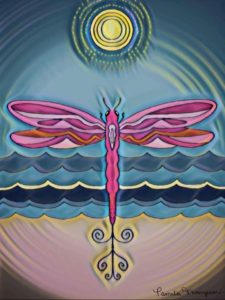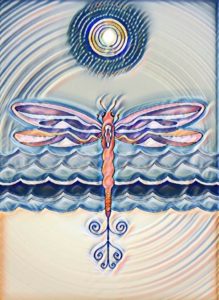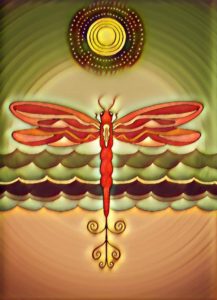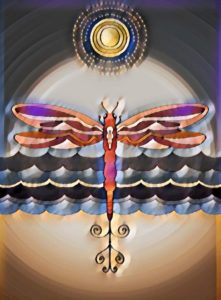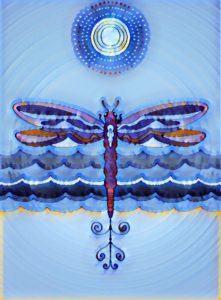 I drew them and then digitally changed them to create different feelings and color schemes.
I do love to look at other artists' work, I think it's a compliment to them when they inspire me. I never copy another artist – mostly I try to copy the feelings their piece evokes from me. I love fun and whimsical! I recently started to watch videos on SkillShare that other artists have posted. It about $11 a month after the free trial and I find the other artists very inspiring. The first video I watched was this one…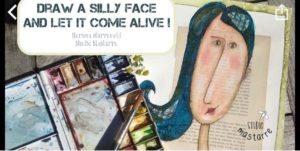 She inspired me to draw this lady-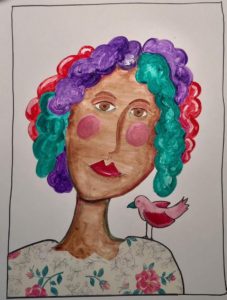 But I liked the crispness of the colors done digitally so I then was inspired to draw a better one-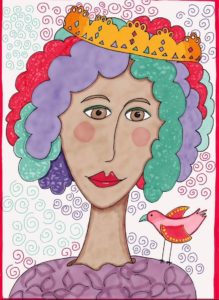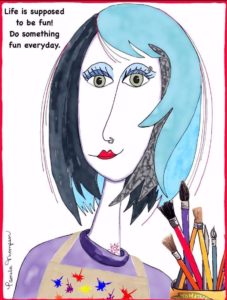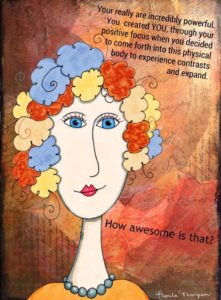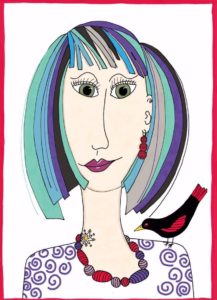 Since then I've been on a roll with drawing people's faces- something I was intimidated with.
My alcohol ink paintings were also inspired by an artist on SkillShare.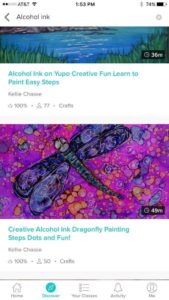 Kellie Chasse was great at teaching the process. After her videos I created mine- such fun!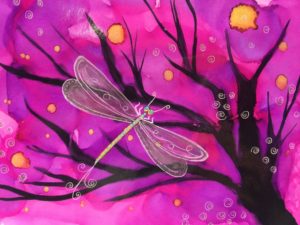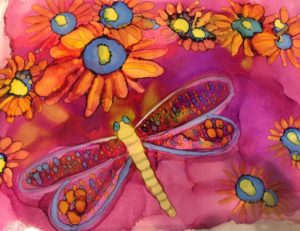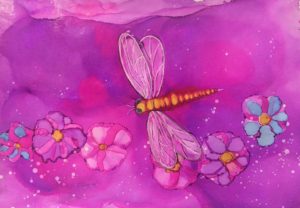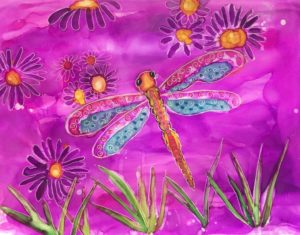 One thing then seems to lead to another. Then I started drawing dragon flies digitally too. I now have a lot of my work up on Society6 for sale.
Mostly I create to make myself & others happy!! My final thought is that all of the feedback from others on Facebook inspires me. I never even considered myself to be an artist until I started posting my drawings- just for the fun of it and received so much amazing positive feedback! I was encouraged by friend on Facebook to create a book- my first was in 2014 and now I have 5 adult coloring books and 4 self help books published. One of my books made #1 new release best seller on Amazon. That inspired me to want to create & share more of my work."
*****
If you'd like to see more of Pam's fun work, following her on Facebook. You may contact Pam at focusonyoursuccess@gmail.com .
And check out her Society6 page!
So tell me, what ignites YOUR creativity?