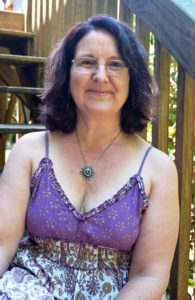 I come across so many artists, musicians, songwriters, poets, cooks, yogis, and farmers every day.  I thought, it's about time I share my inspirations.  As part of this WildesArt gathering place, I will be writing about what inspires me.  
Sometimes it's just a word someone has spoken.  Sometimes it's just looking out my window.  I hope for this blog to be a collection of the many treasures I find.
I'd love to hear about what inspires you, or how something I've shared ignites a spark, so please leave a comment below or write me at WildesArt@gmail.com .
❤️Barbara
P.S. … I hope you'll visit Creativity Jolts to stay up-to-date on creatives and creative happenings!
---
July 12, 2016 – Living Room Session with David Childers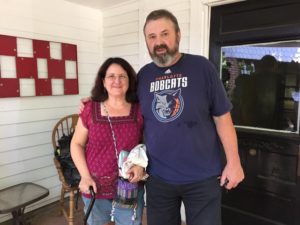 Bill and I set out early on this beautiful Tuesday morning, traveling from Pittsboro to Mount Holly in order to record another series of Living Room Sessions. This time with the great Americana singer/songwriter, David Childers. David was our first interviewee on WildesArt, so we thought it was time we share his music with those who are fortunate enough to listen.
As we approached David's long, treed driveway, we left the hubbub of Charlotte's suburbs and entered a laid back southern retreat. An aura of creativity surrounds the home that David shares with wife, Linda, and a menagerie of cats and dogs. Musical notes escape through the cracks and crevices. Works of folk art are scattered around the house and seep out onto the porch. An outbuilding that doubles as an artist's den nestles among the trees, with works in progress laid out upon a table while other works are propped outside against piles of inspirations.
We were greeted by happily barking dogs and we were tolerated by a few cats who made it known that we may visit, but they would quickly be taking over the couch once we leave. It is apparent that this home is a sanctuary for music, art, and animals.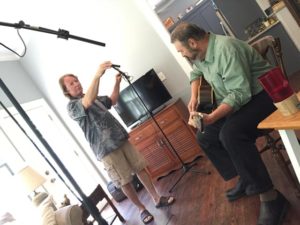 After setting up our video equipment, lights, and mics in a sunny living area just off David and Linda's beautifully restored kitchen, David picked up his guitar and, well, he just started. Simple as that. You see, there is an ease about a David Childers performance that makes for a feeling that one is in the presence of someone who deserves to be heard by the masses…a true talent. And at the same time, we had the feeling that we were hanging with family, and a brother picks up his guitar to pluck out a few tunes, leaving our mouths agape!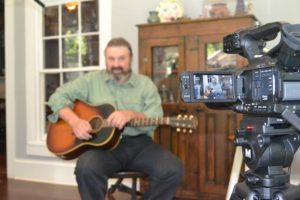 David makes guitar playing seem like the notes are treading atop a pond's surface, creating ripples of sound. And that voice! His harmonics sent perfect tones through my spine, striking emotional chords along the way.
I invite you to hear for yourself. We were fortunate to have recorded a collection of songs, some old and some new. A favorite, Don't Be Scared, is here and may be found on our WildesArt YouTube Channel. Watch and listen for future releases…and please feel free to share with others who appreciate true rich Americana.
If you'd like to learn about what inspires David Childers, read his interview at www.WildesArt.com/David-Childers
---
May 1, 2016 – Celebrating WildesArt Family and Friends at Merlefest
Great friends and inspirational contributors to WildesArt, Michele and Sarah West, frequently tell me "the mountains are calling…" – a call which they often answer. Well, this past weekend was Bill's and my chance to listen to the mountains, and they were speaking (and singing and dancing) loud and clear.
For months, we had been planning our trip to Merlefest (the "traditional plus" music festival, founded in 1988 in memory of Doc Watson's son, Eddy Merle Watson, in Wilkesboro, North Carolina). Much thanks goes out to the Wests for making all of the arrangements. You see, this mother and daughter duo of fine artists/writers travel north from Alabama at least three times a month, seeking inspirations in the verdant mountains, trickling streams, fragrant flora, capricious clouds of western North Carolina. Examples of their inspired artworks can be found at www.TheSarahWestGalleryofFineArt.com and on The Sarah West Gallery of Fine Art Facebook page.
Because our friends are so familiar with this new-to-us area of western North Carolina, we began our much-awaited trip in Boone at a rustic cabin, Broadstone Cottage, which is just a hop, skip, and a jump down the road from the renown Mast Farm Inn. Our view in this river valley bordered by mountains was sublime. We spent our first evening sitting on the back porch glorying over the mountain that faced us and chatting with the West family, before the mountain air turned too chilly and we retired into the cozy cottage living room to eat homemade pie and continue catching up.
Our next day was filled with new-found treasures, including a trip on the Blue Ridge Parkway, with a stop at Moses H. Cone Memorial Park, a manor with a delightful folk-art shop and a glorious vista, where we took the time to sit and drink in the view. However, the special treasure of the day, and the piece de resistance was a visit by our friends and WildesArt Visiting Artists, Valerie and David Lee Mayfield (known professionally as The Bluegrass Sweethearts). As we were sitting around chatting (again in our cozy living room), Valerie asked if we'd like for them to bring in their mandolin and guitar, so they could play a few tunes for us. In a heartbeat, we accepted her kind offer, and we were soon treated to an impromptu house concert by this melodic duo!
Saturday rolled around, and our West/Hengstenberg caravan made its way to Merlefest, for a day filled with pickin', strummin', singing, and dancing. Merlefest attracts over 75,000 people, and it looked as though they all showed up on Saturday. Although the weather was overcast and misty, the vibe throughout the 13 stages was one of joie de vivre. Bill and I wandered from stage to stage, taking in the talents once again of The Bluegrass Sweethearts, as well as The Kruger Brothers, Shinyribs, We Banjo 3, and The Waybacks, just to name a few. Music was flowing throughout the campus of Wilkes Community College…the notes seemed to be almost visibly floating through the breeze.
This became a true WildesArt weekend. Not only were we in the company of WildesArt Artistic Prose blogger, Michele West and constant supporter of WildesArt, Sarah West, but it was a thrill to spend time with and enjoy the talents of our recent Visiting Artists, Valerie and David Mayfield. As we were wandering among the crowd, lo and behold, we came upon another of our Visiting Artists, Jim Avett and his beautiful wife, Susie. Jim and Susie are also the parents of our Yoga for EveryBody blogger, Bonnie Avett Rini, and Scott and Seth Avett, whose lyrics have inspired many of my designs. We had a joyful chat with Jim and Susie. Jim has performed at Merlefest over the last several years, and was preparing to do two shows (gospel and folk) the following day.
In a sort of Where's Waldo fashion, Bill and I tried to spot Merlefest photographer and an upcoming WildesArt Visiting Artist, Jim Gavenus. We found him at the foot of Spinyribs' stage, shooting up at this funky-pop artist's performance. More official Merlefest photos can be found on Jim's Gavenus Photography Facebook page.
Amidst the sea of thousands, we were thrilled to find so many WildesArt friends. Valerie Mayfield summed it up when she said, "Y'all are family to us." This sense of family, high in the mountains of western North Carolina, chimed loud and clear this weekend.
---
April 27, 2016 – One Step at a Time:  Melanie Crawford's Ultimate Hike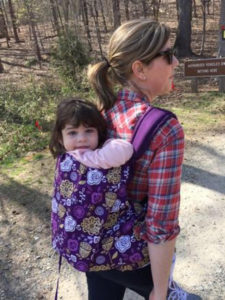 For those who may not know her, Melanie Crawford is the mother of two beautiful children and the wife of Avett Brothers bassist, Bob Crawford. As Melanie prepares for her Ultimate Hike in support of CureSearch for Children's Cancer, I invited her to tell us a bit about her upcoming challenge.
I invite you to support Melanie's hike and children's cancer research by purchasing an 8×10 signed, limited edition print depicting Hallie Crawford. This design is also available in a set of six notecards. All profits benefit CureSearch for Children's Cancer.
WildesArt: How did you decide to do this particular ultimate hike?
Melanie Crawford: I heard about Ultimate Hike from a friend who participated last year. I love to hike, so to be able to do it and raise money and awareness for childhood cancer research is perfect for me. The Foothills Hike will be a beautiful and challenging way to honor Hallie.
WA: How long is the hike in miles and approximate time?
MC: The hike is 28.3 miles. We will begin around 3:30am and hike all day.
WA: Where and when does it take place?
MC: On May 14th, we will be hiking 28.3 miles of the 76 mile Foothills Trail, located in North and South Carolina.
WA: What do you personally hope to accomplish?
MC: My goal is to raise money and awareness for childhood cancer, the #1 cause of death by disease in children. We need a cure! I also hope to finish all 28.3 miles and at a respectable pace.
WA: How are you preparing for this hike?
MC: I have been training with a group of Foothills participants from the Raleigh area. We have hiked in several state parks, experiencing a variety of terrains. The most challenging by far was Hanging Rock State Park. What a beautiful place!
WA: What are you discovering about yourself as you prepare?
MC: I sometimes get overwhelmed by the journey ahead. In whatever journey you are on, not getting too far ahead of yourself is important. I am crafting my ability to approach situations one step or one day at a time.
WA: What kind of support have you had from family, friends, community?
MC: We have been blessed with an incredible support system. Friends and family have carried us during Hallie's cancer journey. We are also amazed by the support we have received from the Avett Brothers fans. They have rallied around us and continue to support our efforts. Much love going out to the "Rejects in the Attic" for rocketing me past my hike fundraising goal!
I would again like to thank everyone for donating to my hike page. Each and every donation is greatly appreciated, be it $5 or $500. I am struck by the things that can be accomplished when we are united and working together. Keep putting that goodness out there! Press on!
To order an 8×10 signed limited edition print with all profits supporting CureSearch, click on the photo below: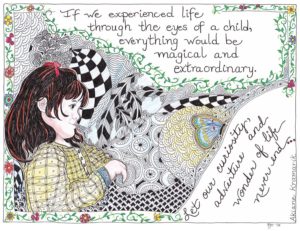 To order a set of six notecards with all profits supporting CureSearch, click on the photo below: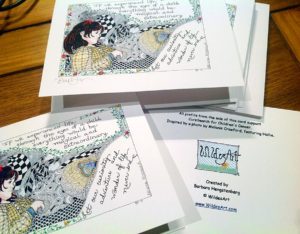 ---
March 9, 2016 – Walking into A Chef's Life:  Our Visit to Chef & the Farmer
At the beginning of each episode of the PBS series, A Chef's Life, Chef Vivian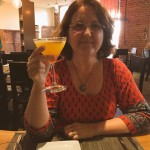 Howard explains that she is now living in, and running her restaurant in, Eastern North Carolina – an area where she vowed she would never return. After our recent dinner at Chef & the Farmer, I am thankful that she and husband Ben Knight returned to Kinston, NC, and I vow to return for another grand meal.
Nestled in what appears to be an up and coming section of Kinston, Chef Vivian's restaurant sets an inviting tone. The brick building was once a mule stable and is located across the street from the Lenoir County Farmers' Market. The restaurant's front patio is generously peppered with pots of brightly colored pansies and chopped wood ready to be set aflame to warm cool-evening alfresco diners. As soon as we entered the front door, Bill and I were eagerly greeted and shown to our table situated in the center of activity. We had the perfect vantage point to view all the goings-on, from the hopping bar action to the prep work in the open kitchen, where chefs prepared dishes with ballet grace.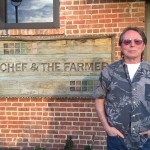 Chef & the Farmer is a comfortable, yet elegant, eatery. The rustic chic décor is perfectly embellished with bold abstract paintings by co-owner Ben Knight. Knight visited a variety of tables and managed the floor during much of our two-hour meal. One might think his presence would add a sense of stress among the staff – quite the opposite. Not one of the many staff missed a beat during our visit. You see, there is a sense of pride and happiness within these brick walls. Everyone seemed delighted that we were there, and were well-versed in hospitality. I have never felt so welcome and appreciated at a restaurant as I did on this first visit to Chef & the Farmer.
Bill and I agree that atmosphere is as important as the meal when we dine out. Chef & the Farmer delivers the full experience: a warm atmosphere, knowledgeable staff, and food that is grown and prepared with love. Between the two of us, our meal included:
Wood-roasted Newport River oysters in Tabasco brown butter with bacon
Crispy crusted and soft-centered grit bread with apple butter and a perfectly textured ham spread
Pan-seared Vermillion Red Snapper with roasted cauliflower, smoked pecan and caper butter, citrus, raisin, crème fraiche
Pan-roasted Quail, Carolina gold rice, winter vegetables, pecan gremolata
And, in honor of Chef Vivian's Birthday the day before our visit, we finished our meal with warm Birthday Cake Pudding with buttercream frosting ice cream, salted peanuts, and sprinkles. Oh, my!
Chef Vivian designs her menu as a true artist designs a masterpiece. She relies on her local farmers to supply most of the ingredients. It may sound odd, but I believe I could taste the love that has gone into growing the vegetables and in preparing each meal (from design to plating). Bill and I were additionally amazed when our server read through our menu with us with knowledge of the story behind each ingredient.
In this world of cookie-cutter, box restaurants on just about every corner, Chef & the Farmer is a breath of fresh air. Chef Vivian is serving honest food. No disguises. And it is being served in an exquisite manner.
Yes, indeed, we will return!
Chef & the Farmer is located at 120 W. Gordon Street, Kinston, NC 28501.
Phone: 252-208-2433.
Visit their website at www.chefandthefarmer.com.
Read my interview with Chef Vivian in our Visiting Artists section.
---
December 9, 2015 – Announcing WildesArt's very own Essential Oil Blend: WildesArt Creativity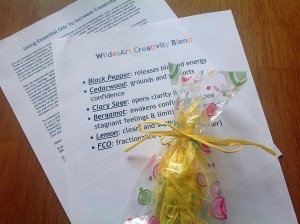 WildesArt has collaborated with Traci Philips, Holistic Health, Life & Soul Coach, to offer our very own blend of Essential Oils. Traci uses only high-quality doTerra Therapeutic Essential Oils in her blends.
I asked Traci to develop this oil to help in breaking through those artistic and creative blocks that we all face now and then. This is a beautiful, fragrant blend that opens the senses to create with confidence.
WildesArt Creativity EO – (10ml roller bottle: $15 plus tax and shipping)
Contact Traci to order: certainway2wellness@zoho.com.
The ingredients of each WildesArt Creativity EO Blend:
– Black Pepper: releases blocked energy
– Cedarwood: grounds and supports confidence
– Clary Sage: opens clarity & vision
– Bergamot: awakens confidence & cleanses stagnant feelings & limiting belief systems
– Lemon: clears and supports focus
– Fractionated Coconut Oil: a mild, non-oxidizing carrier oil
---
November 4, 2015 – A Day Well-Spent…Yoga with Bonnie!
Who drives four hours to attend a yoga class?   Well…me!  Especially when the class is conducted by such an empathetic and knowledgeable teacher as WildesArt's Bonnie Avett Rini.
Bonnie welcomed a visiting group of women to her yoga studio, as well as regulars and me — each of us enthusiastic to be practicing yoga.  While the studio also houses Tae Kwon Do classes, it instantly became a gentle yoga environment as doTerra Balance Essential Oils were diffused into the atmosphere.  The mild aroma instantly lightened the room.  And although the autumn sky had grown dark and drizzly by the time class began, the comfy studio was checkered with yoga mats and yoginis.
Bonnie has a gentle, kind, yet authoritative tone as she takes her students step-by-step though each pose — often offering two to three variations, depending upon her students' abilities.  As one student mentioned to me at the end of the class, you really need not look up in order to follow along…just listen.  That, to me, is a sign of an effective yoga teacher.
Tonight's class called on strength and balance, taking us to our zone of proximal development:  challenging just enough so that the practice was possible with a bit of a push of one's limits.  We worked through our poses tonight to reap the sweet reward of Savasana (Corpse Pose).  During this quiet finale, Bonnie led us through relaxing every inch of our muscles, bones, and skin.  I can honestly say that this was the most relaxing final meditation I have experienced in over 20 years of practicing yoga!
Yes, I drove four hours, but this hour of body/mind awareness surely made up for the drive…as did meeting Bonnie's gregarious husband and their wonderfully talented children: an author, a dancer, and a horseback rider (who is also a young yogini!).  I will chalk this up for a day very well-spent!
♥Barbara
---
September 25, 2015 – Sensing Creativity via Scents
A rainy, dank morning…the type of day I'd rather roll over in bed and pull the covers over my head.  Being a home-based artist allows me the freedom to get up "whenever I damn well please," to paraphrase Bill.  But this morning was to be spent in a writing workshop in downtown Pittsboro, Scents of Creativity & Memory, hosted by a local writer and a wellness coach who guides clients to wellness through essential oils.
I knew it would be a fun three hours when I entered the building to find an array of baked goods from a local favorite, The Phoenix Bakery.  I indulged in a lemon curd doughnut-like pastry.  Incredible.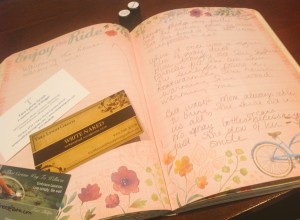 The focus of the workshop was to sample a variety of essential oils and to write in response to how they were "speaking" to us, to the thoughts, ideas, and memories they evoked.  Now, neither the pen nor the keyboard are the sharpest tools in my tool chest.  I much prefer inks, pencils, and paints.  However, with a few whiffs of these essential oils as they wafted into my senses led me to some memories that I easily etched into my notebook.  I am sharing two of my reflections here, and identifying the essential oils that evoked both pieces.  Keep in mind, we were not told what the oil was that we were smelling, nor its triggers before we wrote.
Wild Orange: oil of abundance, fosters creativity, plays with spontaneity, evokes childhood memories.
Where it once was a vague film of ashen dust,
Mom brought out the shine.
Particles fill the air where
the sunlight pours in…
warming the house
warming the wood
warming me.
But wasn't Mom always able to bring out
the shine in us all?
No spray bottles or cans necessary…
just the glow of her smile
warming the house
warming me.
Clary Sage:  hormone balancer, clarity/vision, courage to see the truth, open to new ideas, opens creative blocks
"Wait for meeeeeee!"
The lawn was freshly mowed, miniscule blades of grass stuck on my bare, sweaty feet.
"Last one in's a rotten egg!" I screamed, barreling down to the dock.
Ever feel that sense of freedom?  So free that there is NOTHING holding you back…nothing in the world can stop you?
I ran as fast as my 7 year-old feet could take me, slipping and sliding on the lawn, rumbling over the dock,
kicking off with vigor!
"I'm flying!"
I'm airborne…SPLASH
I'm free.
No Pulitzer Prizes to be awarded here, but man, that opening up through the sense of smell felt great!  I'm grateful that I tumbled out of bed this morning.
For more information on Essential Oils and wellness coaching, contact Traci Philips of That Certain Way to Wellness.  Essential Oils may be purchased through Traci at www.mydoterra.com/traciphilips .
♥Barbara
---
September 21, 2015 – The Piano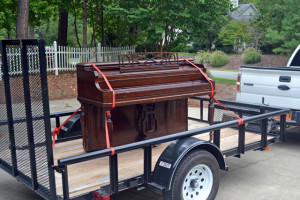 My new "canvas" arrived today:  a piano.  A Haddorff Vertichord, built in Rockford, Illinois, to be exact.  The Town of Pittsboro, NC, Parks Planner has asked me to paint this antique instrument so that it can be turned into street piano.
The piano arrived today, the year anniversary of Dad's death.  He would have loved this story and its irony.  If he were here, I'd pick up the phone, and he'd be chuckling all through my tale.  You see, the irony of it is that for the past two years, I had ventured down all avenues to find a home for my grandmother's (Dad's mother, Minnie Wildes Hawkins') piano.  This family heirloom was passed to me some 25 years ago and held court in my living room all that time.  I have many memories of photo upon photo displayed upon her in Grammy's living room…photos of her 9 children and her countless grandchildren.  Christmas mornings were spent with the entire extended family, and someone would inevitably end up  tickling the ivories.
Alas, Grammy Hawkins' large, carved Haines & Company upright would not fit in our new home in North Carolina, so we searched and searched and searched for a new owner.  Last week, we succumbed to the need to move her out.  Our hope is that the movers brought her to the Habitat ReStore…but I haven't asked.
Therein lies the irony.  I now have another antique piano, and she sits in my garage, awaiting paint.  Eventually, once I've applied "happy designs" to her surface, she will be moved to the sidewalks for Downtown Pittsboro, inviting passersby to stop and play for a spell.
As I said, I don't know the fate of Grammy's piano, but the instrument sitting in my garage has the chance to live on and make new faces smile.  I can only hope that my grandmother's piano has the same chance.  If not, I, and so many of my family members, have some great memories from Grammy's living room to warm our hearts.
♥ Barbara
---
September 4, 2015 – Visiting Blogger: Wendy Raven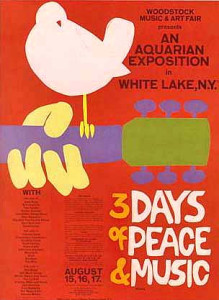 Last month, I noticed that my friend, Wendy Raven, had posted on Facebook that she had experienced Woodstock first-hand. Being that some of you may remember the time period and that, to some of you, this is a historic occasion passed down through the generations, I thought it would be interesting to visit the Summer of 1969 from the perspective of someone who was there. So, I invited Wendy to share her remembrances of that weekend of music.
Enjoy!
♥Barbara
I Basically Had to Be Dragged to Woodstock – by Wendy Raven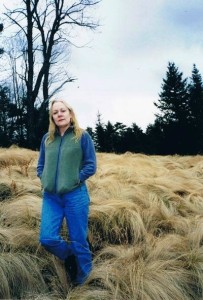 I well remember the day my friend came to me wondering if I wanted to go to the music festival at Woodstock. While I was certainly a Hippie, I also didn't like being around tons of people and even back then preferred to be deep in the forest alone rather than partying with others of my kind! So it did take some convincing for me to agree. Reluctantly.
We set out, 4 of us, in two different cars. I drove my Volkswagen Beetle and our other friends took their 56 Cadillac…..a very cool ride! The friend I drove with in my car was told by her very right- wing father he would disown her if she went. My father tried hard to discourage me from such a venture but he never had any control over me before that, so it was fruitless on his behalf. (I think my mother was envious!)
We made the trip as far as the NY toll and my VW decided to expire right there in the toll booth after I paid! NOT an auspicious beginning clearly! So I left it there, extremely reluctantly, and joined the others in the Caddy. Which was a cooler ride to show up in clearly, though it was hard to stop thinking about my VW back there at the toll house! I don't remember much of the ride but I sure do remember our arrival. We never got close. Like thousands of others we were halted outside the concert grounds and had to trudge a very long way to get there, but it was quite amazing. People living on the road came out and dragged hoses for us for water, they set up lemonade stands, they offered us food….here we were converging by the thousands on a sleepy neighborhood where I bet nothing more than a passing excitable skunk shook up the monotony! It seemed like it was miles later that we got there. Now I should also mention we decided we would get in free (we had done it for a Creedance Clearwater concert, a Jimi Hendrix concert, so why not?)….and so did thousands of others…the Peoples Free Woodstock Concert! So many climbed fences, in fact the promoters, came on the loud speaker and announced it was now a free concert! Yee hawww!
Finding a place to put up our tents proved frustrating, and we ended up quite far from the actual site. As the concert started getting close to performance time, we hiked the long way to it, past thousands of others…and I will never forget the sight of 3 naked people in a boat, paddling around the one body of water available for 500,000 people — the water was the color of coffee with a ton of milk! No getting clean with that water!
We found a spot to sit near the stage, over to the right of it, and about 40 or 50 people to get past to find the bathrooms (lawdy, was that awful to endure: the walk, the waiting, the portapotty smells, the endless "excuse me's" trying to get out of the throngs of humans to even GET to the bathrooms). And not long after that it began to rain….and it barely ever stopped raining…it was pretty miserable frankly. But once the performers came on, it was all ok….one after another of the most amazing musicians of the 60's…people I had been listening to for soooo long, and there they were…right up there in front of us…it was indescribable…500,000 people feeling pure joy….solidarity….accord….no fighting, no fussing, no bitching, no selfies, no cell phones being constantly monitored….just fun…love….music….and mud! Lots of mud…and no way to get clean….
Around the concert area were all these booths set up — food, weed, clothing. As a small town girl, I was floored to see signs such as "ACAPULCO GOLD GET IT HERE", "COLUMBIAN GET IT HERE" and on and on…boldly set-up booths selling weed! People dancing everywhere…children, teens, elderly…all together and many naked! AND NO POLICE! No police presence at all….
By the morning of the third day, we were exhausted from little sleep, wet, dirty and grumpy. So it was time to depart. Seeing the mess as we left was a stark reminder of how people can really mess up the planet. Too many did not clean up their messes, and that kind of pissed me off, frankly — all these so called "aware" hippies and too many acting like spoiled kids. But that was the downside of this event…there is always a downside. There was one more: it cost me 50 dollars a day for the "impoundment" of my VW, then a return trip to pick it up and tow it home. So in the end, I paid for that concert many times over. But it was worth every single dollar. Never in the course of history here in the States have we EVER seen such a peaceful event. So so many people gathered together in love and solidarity…no police, no need for them because we were a different breed…we were hippies…long live hippies!
Wendy
---
July 25, 2015 – Ode to The Wizard of Wildes
Behind the scenes at WildesArt is a very special man.  I call him The Wizard of Wildes.  He has been my best friend for 40 years, and in a few days we will be celebrating our 36th wedding anniversary.  It's high time we celebrate our web wizard, Bill Hengstenberg.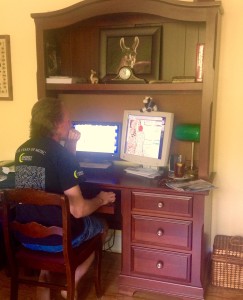 Bill listens intently to all of my plans and ideas for WildesArt and then, magically (at least to me), he makes them happen.  He can turn a crazy thought, a seemingly silly suggestion, into reality.  A few strokes of the keyboard, a swipe of the mouse, and voila!, our blogs are posted, new artwork is in the gallery, and interviews are ready for reading.  His design sense is amazing, his computer knowledge incredible.  As we've built this site, Bill has spent countless hours researching, trying new web tricks, and planning with me.
This is the guy who has supported me through all of my adventures in life.  When I decided to go to college and then grad school later than most, he said, "Do it."  When I decided to quit my lucrative university administrative job in order to become an elementary schoolteacher, he said, "Have no regrets." When I chose to leave teaching in order to focus on WildesArt, he said, "Let's do this!"  Together, we chose to pack up and move from Connecticut to North Carolina two years ago.  It became a reality three months ago, and we haven't looked back.
Behind every creative force, there has to be some sort of stability to keep it on track if it is to succeed.  Lucky for us, Bill is a creative force in himself.  And I say with great sincerity that WildesArt would not exist without him.
So I salute Bill Hengstenberg, and with this ode, send a Happy Anniversary to my Sweet Pea and love of my life.
❤️Barbara
---
July 16, 2015 – Circles
I left my home in North Carolina mid-day, setting out on my journey to South Carolina to meet Bonnie, a new friend. Little did I know that my trip would inspire me to consider the ever-powerful circle.
Circles… no corners to cut… no creases to hide within… no sides to take. Zen master Thich Nhat Hanh uses a calligraphic circle as a meditation. The first half is drawn while breathing in, and the second half is drawn while breathing out.
The first half of my journey was spent with a lot of breathing in and holding my breath in response to the unknown trepidation of meeting someone new.
Midway in my journey, I attended Bonnie's yoga class in which she verbally and physically focused on circles throughout the hour. We circled our arms, circled our heads, circled our legs, hips, hands, and feet…all in the balance of mindfulness of the circle of life, the balance of being.
We visited more during lunch at a local coffee shop. During this time, we shared life stories, laughed over our idiosyncrasies, and discussed our ideas about yoga and mindfulness. I found I was drawing the other half of my circle. I was breathing out in a relaxed state, with a sense of balance and a feeling of the beginning of a sort of circular continuum.
After a four hour drive, I arrived back home. I realized my journey had come full circle. And now I'm seeing circles everywhere…funny how we become mindful of patterns after we connect meaning to them.
With this bit of writing, I pass along a circle to you — the loving circle of a hug.
♥Barbara
Look for Bonnie Avett Rini's blog, Yoga for EveryBODY, coming soon on our Communities page.
---
July 11, 2015 – Collaboration
Collaboration, working together, working with others, sharing ideas…it's what makes WildesArt what it is. Some may have difficulty collaborating, but I find it's a way to test out ideas. It's a time to share thoughts and plans, as well as a time to listen. It's a time to critique and to be critiqued. Now, this is where it may get hairy. But as long as the key element of mutual respect is present, it works wonders.
As a teacher, my workload became lighter when I sought out and shared ideas with my co-teachers, such as Lori Legendre and Cindy Gelzinis. Because of our collaboration, the three of us had the time of our lives teaching second grade. It was done with smiles and lots of laughter, and it provided memories that can never be erased.
Now, as the proprietor of WildesArt, I've decided from the beginning that this would be a safe place for collaboration — a place to share artwork, ideas, lifestyles — all forms of creativity. After all, sharing is what breathes life into this endeavor.
My dream is to one day hold a WildesArt Retreat, where everyone involved in this site will be invited to come together to share music, poetry, food, art, ideas for the future…a chance to collaborate in person. However, the artists of WildesArt live in a variety of states: North Carolina, Alabama, South Carolina, Connecticut, Tennessee, Wisconsin, and New York.
In the meantime, while this is not a realistic expectation at this time, there is still much to be done and discussed. With upcoming autumnal activities to be planned, Michele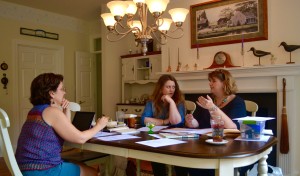 Sarah West traveled from Alabama to Pittsboro, NC (otherwise known as HQ) for our first WildesArt Summit. Ideas were tossed about, discussed, and planned for the future. Much time was spent productively planning my October workshop, which will follow The Sarah West Gallery of Fine Art's Evening with Jim Avett. My new offering of custom commissioned artwork was also discussed, as well as selling in galleries as well as on-line.
I like to think that I have some good ideas up my sleeve, but I so appreciate when others lend their ears and provide advice. WildesArt is brought to life through the talented people who have gathered here. And that just helps me to breathe easier!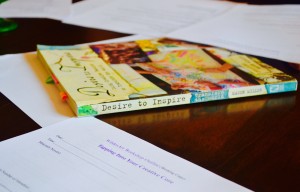 ♥Barbara
---
June 25, 2015 – Birthday Blog
Birthdays are days that scream to be celebrated.  The word "celebration" conjures up many images in my mind, all colorful and vibrant. Happily, I enjoyed my birthday surrounded by fresh sea air, seagulls, and joyful crowds of vacationers, when Bill took me to Newport, Rhode Island, for a few days.
Just as "celebration" conjures up delightful images for me, Paleface's lyrics in See You When the Sun Goes Down deliver a celebration to my ears and my mind's eye. As I continue to work on this Paleface-inspired piece, a photo crossed my desk last week that I knew HAD to find its way into this festive drawing.  Captured in the photo was David Mayfield, sporting a mishmash of color from head to toe in plaid shorts, tie-dyed t-shirt, and a ball cap…along with a sh*t-eating grin.  He was exuding celebration!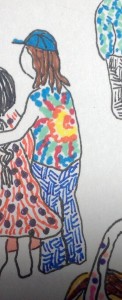 He immediately became a character for this piece, and I wouldn't be surprised if he shows up in future pieces. Celebrating my birthday, I smile when I think of this fellow enjoying life.  If you haven't had a chance to listen to the bluegrass music of David and his lovely wife, Valerie, as The Bluegrass Sweethearts, visit their website and check them out on YouTube.  When you do, you will hear the Mayfields joyfully celebrating life.
Happy Day!
♥Barbara
---
Beginnings are always exciting for me… New life in springtime.  The first snow of winter.  The first day of school (as a teacher, not so much as a student!).  A blank sheet of paper on which I could write the next great novel.  A blank book to collect all of my inspired thoughts.  A blank canvas or blank paper upon which to create a masterpiece.
Perhaps my naïveté drives me to think the end result will be a genuine success.  But the end result is not half as exciting to me as the beginning.  In the beginning, I get inspired by, say, a song lyric.  And then comes the fun…I get to plan.  My planning quickly leads me to create.  When I'm in the midst of a drawing is when life emits from the page and something more ethereal takes over.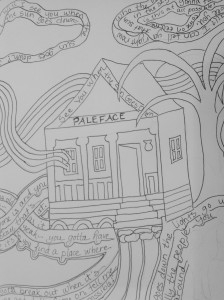 The piece I'm currently working on, See You When The Sun Goes Down, has been swimming around in my head for over a month.  I've been writing back and forth with Mo Samalot and Paleface to be sure I get the lyrics just right, all the time itching to get it drawn on paper.  This past week, we finalized the lyrics, and I am in my glory as I begin this new rendering.  It is beginning to take shape…and I am in my glory!
♥Barbara